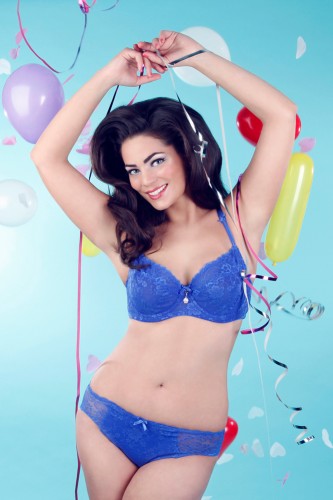 I end up featuring Sugarshape in these columns every few months because their stuff is just so pretty! I'll admit that this bright blue bra feels just right for this week – I'm working on clients in three different time zones, it's going to rain for two days and it's Easter! What better time to fall in love with a blue lace lingerie set?
There are lots of pretty lace lingerie sets out there, but the detail on this lace is luxurious and lovely. I'm really impressed how Sugarshape keeps using their community to turn out lingerie that reflects the needs and tastes of actual consumers – they're great at walking the line between pretty and useful. This is one of their girliest options yet and I'm seriously tempted to grab one for myself. It would be great combined with their bird bra charm.
If you're new to Sugarshape, remember that they use centimeter measurements instead of cup sizes to make things easy. Grab a tape measure and try it out for yourself! Their sizing system really works.
Do you love this new set from Sugarshape? Have you tried them yet?