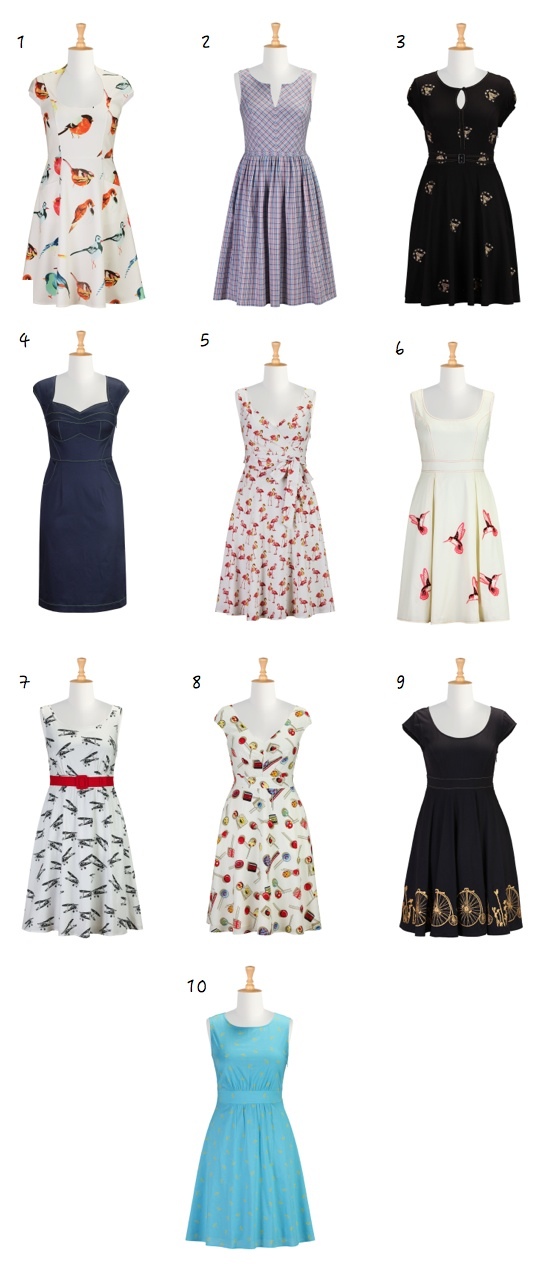 Summer is quickly approaching, which means that most people are getting ready to break out their summer dresses. If you're full busted, sleeveless and short sleeved dresses can actually be one of the harder items to find. Extra forward projection pulls armholes open and exposes your bra and wrap dresses tend to pull open in front. This is one of the reasons I'm especially excited about the summer dress options that eShakti is offering – they offer customization on each dress that helps deal with various fit issues. You can buy standard sizes, but also input a detailed set of measurements for a custom dress. From there you can change skirt lengths and even add sleeves to some pieces! The cost is a easy $7.50 on top of the dress price.
I haven't tried eShakti yet, but I suspect I will be picking some of these dresses up in the next few months and playing around with their custom system. In the meantime I've made a list of my favorites from them – since it's me, this list obviously reflects a preference for classic shapes along with bolder prints.
1. Bird print double knit dress
This dress is one of those cute summer basics that can go pretty much everywhere. Dress it up with gold jewelry and high heeled shoes or wear it with flats to run to the grocery store. The bird print is pretty and bold without being too difficult to wear.
2. Seersucker check notch neck dress
I never understood seersucker until I moved to the South, but I've since discovered the eminently practical reason for it's popularity: When it's insanely hot, seersucker fabrics will keep you cool. This cute but basic check print dress would be great for work in the summer. It's got a nice neckline detail that won't show any cleavage and would look nice with a sweater if you work in one of those offices that is addicted to air conditioning.
3. Horseshoe motif cotton knit dress
I love feminine embroidered dresses and this black and gold horseshoe dress is adorable. Cotton knit fabric is a great choice for the summer months and the cut is classic.
4. Corset style sheath dress
This is one of those dresses that would never work off the rack if you're full busted. I think with some customzation from EShakti, it would! I love the slimming faux corset lines. Making this work would depend on being able to line up the bottom of the bust design with your actual proportions, but being able to customize for height with detailed measurements might make that possible.
5. Flamingo print cotton poplin dress
I really love flamingo prints, so I'm seriously tempted to add this to my small flamingo themed lingerie and clothing collection. It's basic, adorable and being able to customize the chest measurements would make the wrap style top work properly.
6. Hummingbird embroidered poplin dress
More adorable birds, but this time as embroidered details rather than as a print. This dress would be perfect for everything from the office to attending a summer wedding.
7. Belted biplane print dress
I tend to avoid black and white print dresses, but the addition of the red belt here makes the whole thing pop. The biplane print is unusual and fun.
8. Candy crush crepe dress
This candy crush print dress would pretty much go with everything since the colors in the print are so varied. That's one of my tricks to making prints work – if it has enough colors in it you'll generally be able to mix and match the dress with lots of things you already own.
9. Vintage bicycle embellished cotton knit dress
The vintage bicycles on this dress are amazing! Again, it's a classic shape and black goes with everything.
10. It's raining umbrellas print dress
It rains all the time here, so this dress feels extremely climate appropriate. The light blue makes a gorgeous background color for this simple and sweet summer dress.
Which one of these is your favorite? Have you tried eShakti? What was your experience like?