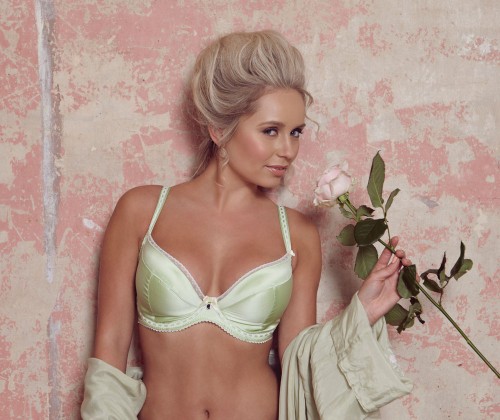 My lingerie tastes tend to trend towards the "bolder is better" side of things, which means that I was sort of at a loss when Tutti Rouge offered to let me try some pieces from their latest collection. While it was beautiful and classic, it was also much plainer than lingerie that I tend to pick up. This is one of those occasions where I'm completely thankful for a company offering samples, as the pieces are completely different in person and I'm glad I didn't miss it. In fact, I'll be picking at least two more sets up this season with my own money.
I shouldn't get ahead of myself here. After lots of thought, I picked their new signature plunge style (the Beatrice) and the Lilana. I have lots of say about each, so I'll be breaking it up into two reviews. I've been on the hunt for a great fitting plunge bra that was genuinely low cut, so I was hoping that the Beatrice would be it. I asked for the bra in my usual size of 34HH. So how does it look on?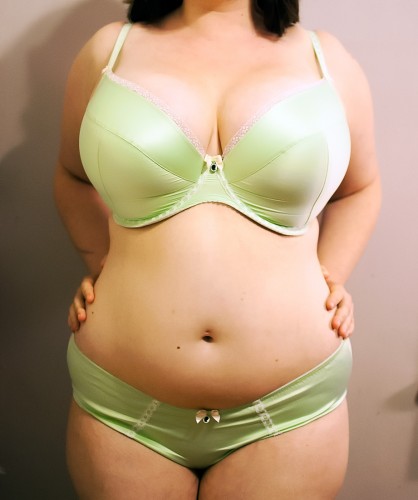 As you can see, the sizing is pretty perfect. The gore on this is the lowest on any bra I've tried outside the Bravissimo Satine, which runs pretty small in the cups. If you like that bra but couldn't get the sizing right, I think this may be your new favorite bra. It's supportive, the fabric is lush, and it disappears under even the most low cut necklines.
This bra is actually full of lovely and intricate details – it's just that they don't show up well when you photograph the set on a person! Tutti Rouge consistently amazes me with the details in their bras. They're always thoughtful, and I'm honestly not sure how they produce bras with this level of detail at their price point. Look at the two different laces used here and how they're carried over to different parts of the set.
Tutti Rouge has stuck with their original heart sliders, which is a great part of the brand's image. I hope they never change them.
But here's the best (and most unexpected) design detail of all. Check out these cute cameos! They're on both the bra and the panties and I've never seen anything like them before. It's perfectly in keeping with this classic set, but also a really out of the box design element. Lingerie bloggers are always after companies to try something new and Tutti Rouge is actually doing it.
I will be getting a ton of wear out of this set and picking it up in white as well, since I think it would be a great basic for summer. I know it's hard to trust reviews that aren't critical of sample sets, but I honestly don't have anything bad to say about this set! It's lovely and I'm so glad to have it, as it's something I never would have taken a chance on by myself. I'll be picking up more sets this season, but now I'm extra excited about the leopard print stuff that will show up in the autumn. Perhaps Tutti Rouge will be what converts me to animal prints?