Yours Clothing is a plus size retailer I'd heard of in passing, so I was really happy when they contacted me to see if I wanted to do a review! There are lots of big online plus size retailers out there now and I know I don't review a huge range of companies on here all the time. I'm taking one step towards remedying that today with my review of this gorgeous maxi dress from Yours.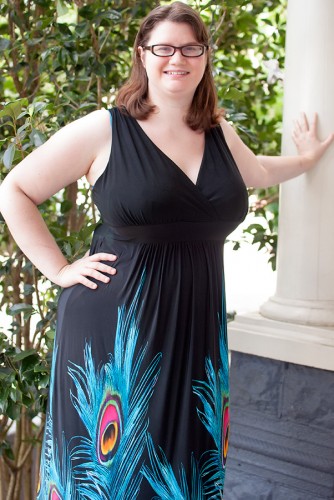 I basically live in dresses, but sometimes you just want to throw on something pretty and easy that you can also sweat in (and in my case, chase the dog in). This maxi dress seemed like it would meet all of my criteria and be washable. When you live in a hot climate, sometimes you just want something easy to get you from air conditioned area to air conditioned area.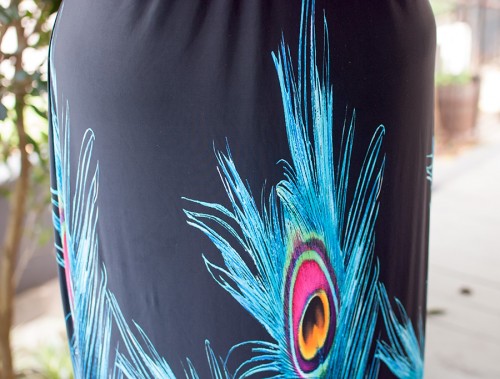 It's been raining nonstop here so I've had trouble getting pictures outdoors. Consequently, this dress has actually been through a lot. It's been washed and worn at least three times and was part of a incident I had where my dog pulled me over a crack in the sidewalk and I took out most of the skin on both knees. My knees took a week and a half to recover but the dress was fine, which can only speak to the quality of the fabric.
The peacock pattern on this dress is lovely and vibrant, which makes it a great dress to wear with just a plain pair of flats when you're out running errands or walking around. The fabric is light and stretchy, but it falls nicely over the body and isn't too clingy. I have plenty of room in the chest, although due to the lightness of the fabric the neckline can fall open a bit more than I find ideal. It hasn't bothered me enough to pin it, but I do find myself tugging on it a bit when I'm out sometimes.
This dress doesn't give me the extreme hourglass silhouette that lots of my clothing does, but it's a nice relaxed look for hot days when you don't want to get all dressed up. It's washed and worn perfectly, so I'd totally recommend it at $63.00. It's a pretty and easy dress for summer that definitely works for the full busted plus size woman.