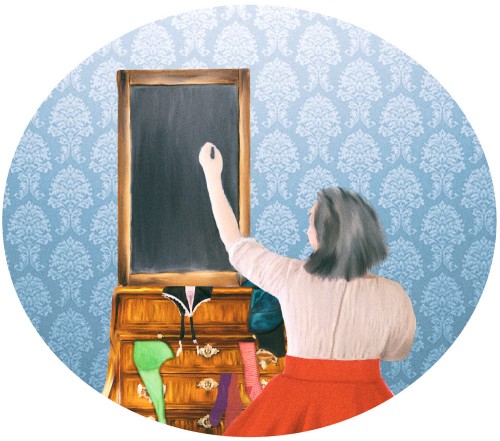 When you're marketing your lingerie or fashion business, it's easy to gloss over your target market. Getting to know your target market is more than an intellectual exercise – once you really explore it, you'll find that tons of little stressful marketing decisions become easy ones.
It's easy to believe in the internet age that our target market should be everyone with an internet connection. In fact, it's just the opposite. The internet allows you to reach everyone in a specific subset of internet users, which is incredibly valuable. Today we're going to look at two totally made up lingerie businesses and talk about how each one might narrow their target market as well as what decisions that might lead to.
Lingerie Company A: A young female Etsy solopreneur who is selling a made to order luxury lingerie line. Pieces range from $300 to $1000 per piece. Has very little marketing budget.
Lingerie Company B: Large semi-established online lingerie store. Price point varies from $10 to $100 per piece. Experiences decent sales and has a small to medium marketing budget.
Each of these companies has the same exact tools available to them, but will obviously need to use them to attract completely different audiences. If you've never thought about your target market in lots of detail, here are some of the basic categories to start with.
Age: In this case, Company A's buyers are likely almost entirely in their late 30's and older. Company B will have a wider range of buyers, including younger buyers with much less disposable income.
While this doesn't seem like rocket science, it does make lots of marketing decisions easier. Assume two bloggers pitch both of these companies. One blogger is 19 and has a large audience and one blogger is 40 with a small niche audience. On the surface, the first blogger seems like the easy decision for both businesses. However, knowing what Company A does about their target market, the older blogger with the niche market is a much better use of their finite resources. Company B, which relies on broader marketing, should go with the blogger that will bring the most general traffic to their site.
Income: Income is about way more than a number – it's about a lifestyle. You don't have to know your target market's salary down to the dollar amount, but you do need to know what their income says about them. Do they hang out on flash sale sites or browse high end web boutiques? How important are discount codes to them? Are they concerned about buying investment pieces or following the latest trends?
Keep in mind that age and income are also related. As a general rule, income goes up with age, so luxury fashion and lingerie businesses will generally have an older client base. Younger buyers are more likely to rely on discounts, flash sites and impulse purchases to fulfill their needs.
Personal Style: Younger buyers are likely to want the latest trends at a lower price, while older buyers will be interested in pieces with a more classic feel. This doesn't mean that older buyers aren't trendy: the trends are just filtered through a different lens.
Luxury buyers are also more likely make buying decisions based on where lingerie is made and it's ethical qualities. It's not that budget customers are heartless or awful – it's that prices go up as manufacturing practices improve. There are lots of budget buyers who would love to support ethical manufacturing but just can't afford to do so.
Size Range: This is one of the big ways to narrow your market online. If you're running a plus size or a full bust brand, you're obviously narrowing the pool. However, narrowing the pool can be great for business! Niche businesses tend to have incredibly loyal followings and do well with repeat buyers and word of mouth. Keep in mind that if you're narrowing your reach by picking something like luxury lingerie aimed H through K cups, you're also likely narrowing your market by age and style as well.
Once you've thought through all of this, it's easy to filter your potential actions through the eyes of your target market. Do they think Google ads advertising discounts are awesome or tacky? How much do they value social media? How much does exclusivity matter to them? What bloggers should you give samples to?
Has this post helped you think more about your target market? Do you have any more questions? If so, leave them in the comments and I'll come back through and try to answer them.