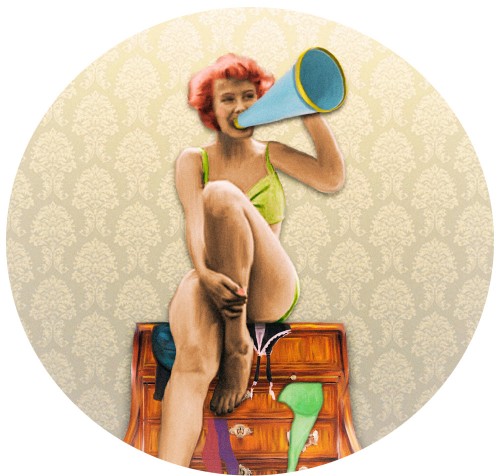 Now that you know your target market inside out and have checked out some of your SEO issues, it's time to talk about the harder stuff – becoming a brand with a strong identity. We all know brands who stick in our head, but what are they doing that the rest of us can emulate? Today I'll be talking about some ways to unapologetically own your branding, quirks and all.
Flip People's Assumptions:
Pinup Girl Clothing is a company I've reviewed here several times, but I'm also a big admirer of their branding on a professional level. Vintage reproduction companies frequently trade on the idea of channeling a simpler time, but Pinup Girl Clothing embraces loud kitschy patterns as loudly as it wears it's feminist ideas. While their recent Disney inspired collection could have been marketed with a typical "modern princess" angle, they spent most of their time promoting that the clothing was designed by women and the patterns were created entirely by female artists. Then they put the whole thing out in a huge size range to make sure everyone could own one.
Think about how a stranger would view your business and what assumptions they would make and then think about how to surprise people. What causes can you embrace? What values can you exude that people wouldn't assume from your marketing? These are the kinds of things that create memorable branding.
Change Up Your Models:
Cake Lingerie (whose flexible wire bras are great for full busted ladies, by the way) recently debuted their new model. She's gorgeous, amazing and a 36J who carries her weight in her stomach and thighs. Basically, she looks like lots of us with way better hair. By photographing their bras on both standard size and plus size models, Cake Lingerie are creating images that resonate with their entire target market.
While the whole "real woman" marketing thing is problematic, it's a fact of life that people are more likely to buy clothing from a model who they relate to. Whether it's encouraging your customers to submit photos or using multiple models to show a full size range, look for ways to help people visually see that your clothing or lingerie is for people just like them.
Embrace Your Customer's Quirks:
Do you know that your customers love crazy patterns? Do you know that they're obsessed with cats or owls? Do they love death metal music? If you and your customers share a love of the same offbeat subjects, that's a great place to meet them honestly and market to them.
Small business owners get it beaten into them that we have to be extremely professional at all times, which can be exhausting. It can also be boring, for your customers and for your brand. Don't be afraid to have fun with your marketing and try the unexpected when it meshes with the tastes of your audience.