Everyone has a favorite era and mine is definitely the 1940's. As someone who loves creativity within strict parameters, I'm drawn to the dramatic shapes looks that were created with limited materials and limited fabric yardage. I'm in love with peach satin, peaked shoulders and tap pants of all varieties. While there are lots of 1940's influenced pieces that mix the vintage look with modern trends, today we're focusing on lingerie looks that are pretty much straight from the era. A bonus is that pretty much all 1940's lingerie was comfortable. Even girdles and suspender belts were designed to be worn all day without creating discomfort, so it's an easy era to replicate in your loungewear and under your modern day outfits.
Styles have changed over the years and we've gotten more casual, which means that lots of ladies repurpose their 1940's bed jackets or silk pajama pants as outerwear as well. Sometimes one piece of vintage lingerie can turn a plain date night outfit into something extra special.
1. Vintage 1940's Dressing Gown at stellaanddaisy
It's nearly impossible to find vintage in larger or super curvy sizes, but occasionally a gem pops up. The 1940's were the golden era of amazing gowns, which spilled over into robe and dressing gown designs. Dressing gowns were made to be seen and admired. I adore this totally unexpected taffeta fabric and the classic cut of this gown.
2. Vintage 1940's Dressing Gown by stellaanddaisy
Looking for something a bit more girl next door? Try this equally beautiful but slightly more subdued vintage dressing gown. The print is beautiful and it's easy to wear all summer.
3. Silk Satin Bed Jacket by Amelia Thomas Lingerie
It's no secret that I adore bed jackets. The concept is a natural one: something to cuddle up in while you drink a cup of coffee or read a book late at night that still feels pretty and luxurious. The bold pink color of this jacket is just lovely and the basic cut means it can be worn as loungewear or even out to dinner.
4. Peach Satin Bettie Pajama Shirt/Peach Satin Bettie Pajama Trousers by Bettie Blues Loungerie
It's impossible to think of 1940's lingerie without coming up with peach silks and satins. It was a hot color during the whole era (along with eau de nil, which designers really need to bring back) and dominated lingerie and evening gown design. This pajama set is perfect if you want something that is a really authentic reproduction of classic 1940's nightwear.
5. Floradora Girl Silk Tap Pants by Dottie's Delights
Prints! I'm a sucker for a great print and these silk tap pants are just lovely. In a perfect world I'd love if they were a little longer, but they're a great piece to mix and match with your modern lingerie collection.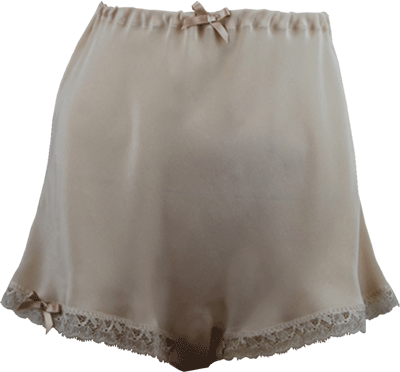 6. Silk French Knicker by Amelia Thomas Lingerie
More peach silk tap pants, this time by Amelia Thomas Lingerie. These are authentic looking, just the right length and perfect for all of your vintage lingerie needs. These also work great under full skirts in the summer.
7. Peach Silk Ida Suspender Belt by Kiss Me Deadly
Kiss Me Deadly is doing a whole new peach silk line that is just incredible. While I can't wear their bras, I love this garter belt. It's basic, mixes and matches with a ton of other items and looks enough comfortable to wear all day.
8. 1940's Tap Panties by What Katie Did
Another set of tap panties that would be a great basic for your lingerie drawer. The side buttons on these are adorable!