Those of us who love authentic 1930's and 1940's lingerie can't do much better than Bettie Blues Loungerie. This season they're continuing with the tried and true in the form of new additions to the peach satin line, while adding in new even higher end products with some gorgeous purple silk options. I recently picked up the peach silk robe in their sale, and while I haven't gotten a chance to take photos of it yet, I can assure you that the quality is pretty much unparalleled. These pieces have a luxury price tag, but they're definitely worth the splurge if you're a fan of this era like I am. These pieces should be out sometime in September, but if you can't wait that long you can check out the peach satin items on sale at both Betty Blues Loungerie and Hepburn and Leigh. All images are by Iberian Black Arts with Frankii Wilde modeling.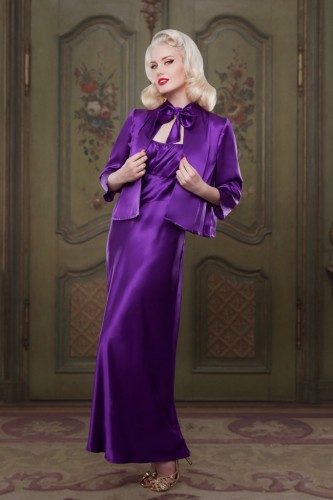 The Heather Silk Bed Jacket:
While robes were the focus of last year's collection, this year several gorgeous bed jackets have been added as well. And we all know how I feel about bed jackets – I must have them all. This purple silk version is elegant and beautiful – definitely fit for a queen.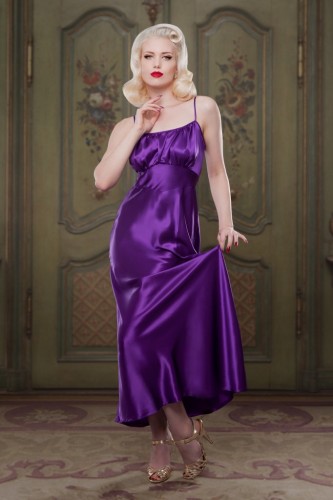 The Heather Silk Nightgown:
This bias cut nightgown is a great addition to the other luxury basics that Betty Blues Loungerie offers. It'll come in both this purple silk and the peach satin. Check out the drape on the skirt – it's just gorgeous.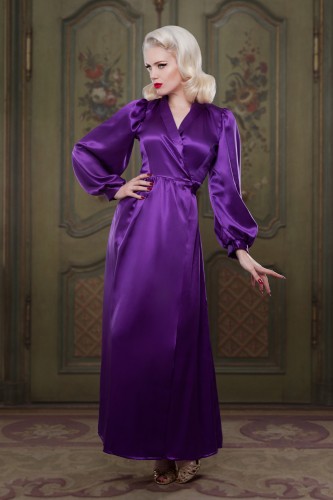 The Heather Bettie Silk Robe:
This is this purple silk version of the classic Bettie robe. It's chock full of period details down to the hang of the sleeves. This is the kind of robe you buy and then wear for years.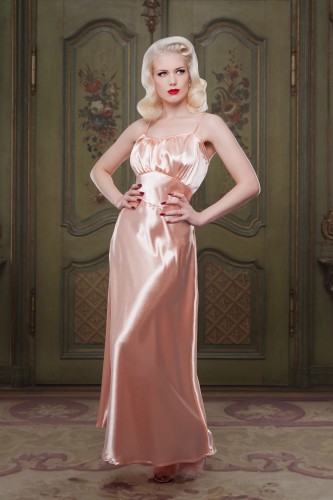 The Bettie Nightgown in Peach Silk:
If you already own the robe or the pajamas, the colors on these new pieces should be a perfect match. As much as I love the purple version, this classic peach satin version really steals the show for me. I'm definitely adding this to my "save up" list.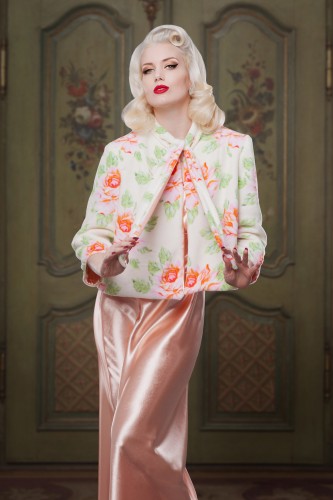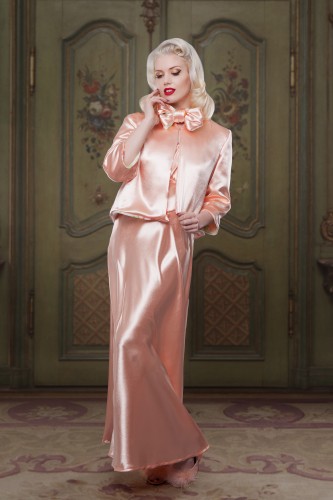 The Reversible Peach Satin Bed Jacket:
This piece is pretty much perfect. The reversible fleece side adds warmth and an era appropriate print, while the peach satin side lets you create the perfect matching set with the nightgown.
Which piece of the collection is your favorite?