Bloggers don't generally talk about the side effects of blogging (feeling like you have to photograph all of your outfits, seriously overstuffed closets, the hazards of overbuying) but today I'm going to talk about some of them in light of my big weekend project: a major closet cleanout with an eye on some serious clothing overhauling. I'm also going to talk some about what happens to samples, since I've seen lots of questions about that online. If you're looking for tips on the lingerie side, I've written about that on The Lingerie Addict today.
As a lingerie blogger, it's tempting to try out lots of new stuff even when you don't strictly need it. Part of this is that if you actually make money off your blog stuff is tax deductible which makes it easy to rationalize and part of it is because reviews make easy and popular blog content. After a few years, you end up with what I have: an overcrowded closet of stuff you like but don't necessarily wear all of the time. I have lots of gorgeous dresses, but some of them don't work with my lifestyle and I never wear them. This leads to sections of your closet looking like this: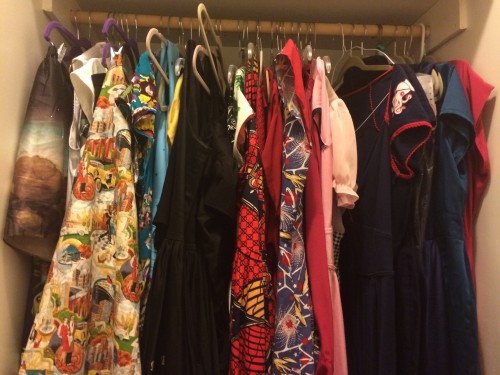 Or this: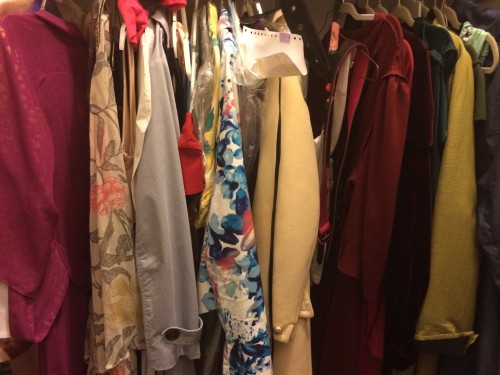 I was definitely ready for a cleanout! While I'm not completely done yet, I thought I'd write up some tips today in case you were in the mood to try this on your own wardrobe. I also want to highlight some great resources for selling your vintage repro dresses so you can turn them back into cash for either other clothing or for your savings account. I've pulled out a pile and listed it on a bunch of groups, so I'm planning to take 30% of it and turn it back into one of a kind vintage dresses and put the rest into my quarterly business tax fund (being an adult sucks sometimes, but it has to be done). Here's the process that I followed that I think will work well for a small or a large wardrobe cleanout.
1) Pull out all of the stuff that is stained, ripped, or you're never actually going to mend even though it's been in the mend pile for 3 years. 
We all have this stuff and it should be the first to go. If you haven't mended it to wear it in years, then the odds are it probably wasn't that important to you to start with since you haven't missed it.
2) Pull out all of the clothing that you like but never wear.
Everyone has great pieces that don't work with our bodies, our choice in underwear or our lifestyle. For instance, I found myself pulling out a ton of dresses that needed beige underwear under them during this phase. Since I only own one beige bra and I sort of hate beige underwear, it makes sense that I'm not wearing dresses that require them on a regular basis. Since I don't see myself giving up my brightly colored lingerie anytime soon, it probably makes more sense for me to get rid of those.
3) If you have name brand clothing that is in good condition, get yourself to Facebook.
Facebook has become a fantastic platform for fashion lovers. I've bought lots of great pieces from Facebook groups, but you can also sell specific brands in groups made up of their fans. Search for Desperately Seeking Trashy Diva for Trashy Diva related dresses, PUG Swap/Sell for Pinup Girl Clothing and Clothes for Boobs for full busted clothing in general (including lots of Polish brands like Biu Biu and Urkye). I'm in the process of doing this now and it's kind of a chore, but you'll also get a better price for your pieces than you will at a regular consignment store.
4) Evaluate your new reduced wardrobe.
Everyone has a regular stable of clothing that their wear, but we rarely think about why we reach for those items so often? Is it a set color palate? Are they all the same cut? Now that you've gotten your closet down to the really important stuff, start to look for patterns. This will help you when you need to add new pieces as well – don't forget to mentally put any potential purchases through the same criteria as your current wardrobe. It'll keep you from buying sweaters and shoes that won't go with anything and other awkward and extraneous items.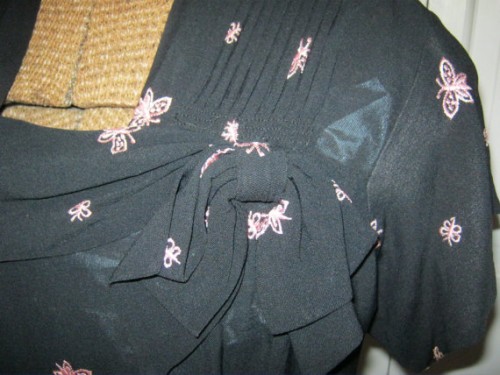 5) Reward yourself, if you can.
While I've condensed this process down to some quick paragraphs, it's a fairly lengthy one and uses your brain if you've got a big closet. Don't be afraid to take it in steps. While you're going through it, this is also a time to think about your current buying habits. Do you shop because it's fun? Do you like having the latest and greatest things? In a perfect world, what would your wardrobe look like? In my case, I realized that I'd like to own more one of a kind vintage pieces and more 1940's appropriate pieces. Now that I've thought about it, it's easy to test whether a potential purchase will fit into my wardrobe or not based on my more thoughtful criteria. Fittingly, my reward purchases were two 1940's vintage dresses from Etsy – one in a great novelty print that I'd never seen before!
Finally, I wanted to answer the question about what bloggers do with their samples. I get this a lot and I've seen it asked in other places as well. Whether one sells samples they don't want is up to the blogger – I personally don't, as it feels dishonest. I tend to give samples away to people who fit them if they aren't my style or I'll give them to charity, but I don't try and make a profit off of them.  I think this is an area where bloggers differ greatly, but I also think it's a smart question for fashion blog readers to be asking.
When did you last clear out your closet? What did you learn about your ideal wardrobe in the process?