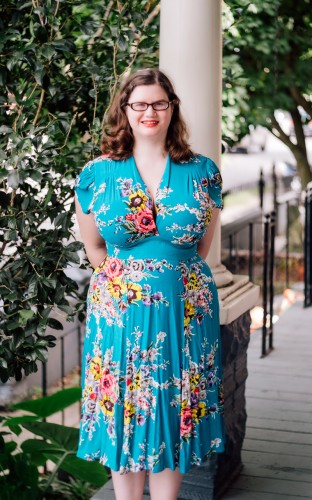 Trashy Diva has been bringing back some older prints lately, which is great news for those of us who missed the original versions. One of their newest prints is a rayon version of a beautiful silk print – the turquoise floral. I was really thrilled to be offered a dress from this collection to try, which was made even better by the fact that I can now go to the stores to check out all of the different options.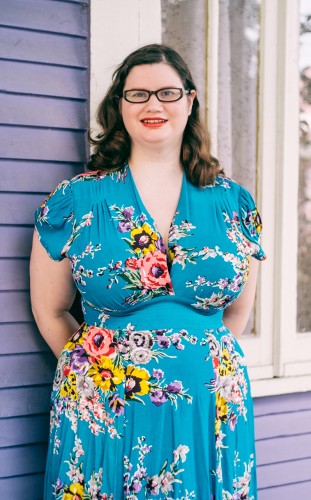 I was really sure that I was going to end up picking the Maria as my sample, but after trying all of the options on the Ashley dress really spoke to me. I've been in a 1940's kind of mood lately and this dress features all of my favorite fashion features from that era – right down to the gorgeous sleeves. This is my usual size 14, although this dress runs a little larger than some of the Trashy Diva pieces. This is great, as it gives me more room in the chest area. I'll still end up putting a few stitches in the bottom of the neckline for security, but that's mostly so I don't have to hunt for the perfect bra to wear it with whenever I want to put it on.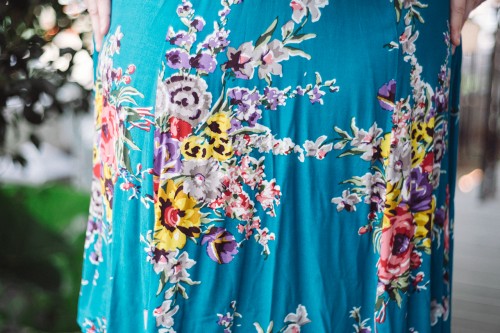 As you can see, the print is stunning. I love the bright turquoise background combined with the vintage style flowers. I'm not always a huge fan of florals, but this feels fresh and young rather than matronly. Depending on your accessories, you could wear it as part of a really modern outfit or as part of a very strict 1940's ensemble.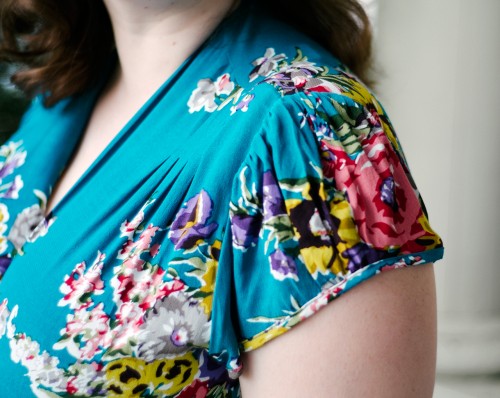 While this dress feels perfect for our current overly warm weather, I plan to wear it in the winter as well with a cardigan over it and tights underneath it. It would even look cute with boots and the right jacket. I realize that this won't work for climate zones that get an actual winter, but if you live in a warmer area this can easily be a dress that you pull out throughout the year.
I'm so glad that I finally tried another dress style – although now I suspect I'll feel the need to pick up more Ashley dresses in the future. If this isn't your style, I also had great luck with the Maria and the Sandy Ties dress in this print so busty ladies may want to try those as well. This print has been selling really quickly, so if you want one I'd suggest you get it sooner rather than later. I know some sizes are sold out already!
What do you think of this print and this Ashley dress? Have you tried any of the turquoise floral pieces yet?
P. S. Check out the Cherries Collection blog to see me modeling one of the latest releases!