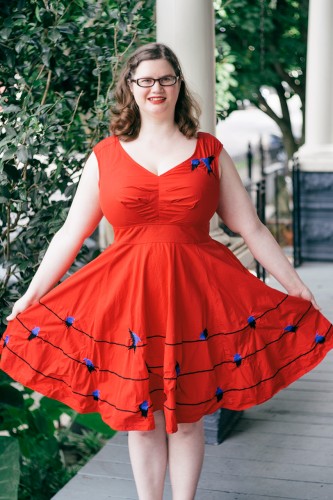 I found out about eShakti a few months ago (late to the blogger boat, I know) and was really thrilled to know that they existed. They offer cute retro inspired styles as well as an amazing level of customization at $7.50 extra per dress. You can have dresses made with your custom measurements, but you can also change the length, neckline style and even add or subtract sleeves of various types. Basically, eShakti is a curvy girl's dream come true.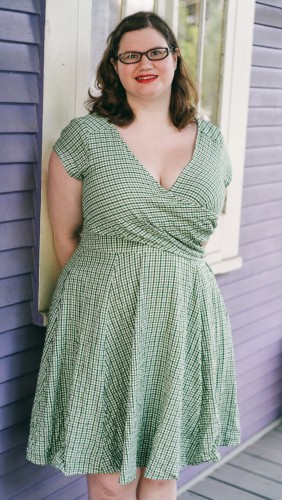 When I discovered them they were having a "buy two get one free" sale, so I jumped in and picked up two dresses and a light military style trench coat made out of chambray. The coat will show up later in the season, but I wanted to review these two dresses together.
Birds On Perches Dress in Red: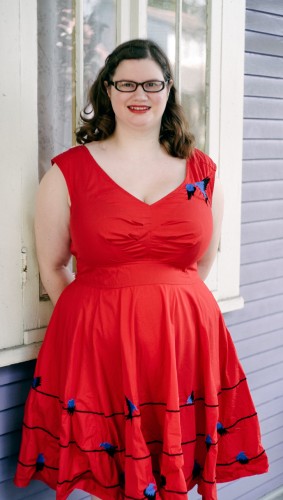 I feel like I should have lots of intellectual things to say about this dress, but really it's just perfect and I love it to death. I had this custom made to my measurements and it's spot on. The birds are cute, the color is great and it's a cut I'm comfortable with. I love that they include little bra strap holders inside the dress straps to keep everything in place. It's the perfect curvy girl dress. It's made of a super light cotton poplin, but I love it so much I'm going to try and make it work for fall/winter as well. They've made this dress in a bunch of different colors, so I'm hoping it'll pop up again soon so I can buy one in a different colorway. I'm kicking myself for not buying the gorgeous coral version at the same time now.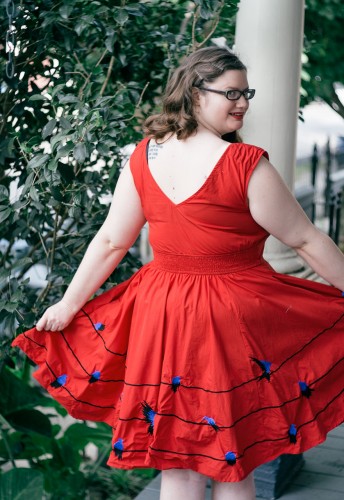 Pricewise, this dress ran about $80 and feels right in line with that price point. The embroidery goes all the way around the skirt and is well done. The construction is solid and it's gone through the washer now lots with no issues.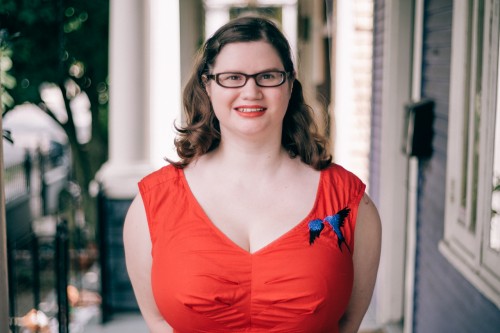 The embroidered bird on the front is cute and equally well done. I've gotten compliments every time I've worn this out, so it's clearly pretty eyecatching.
Green Check Seersucker Dress: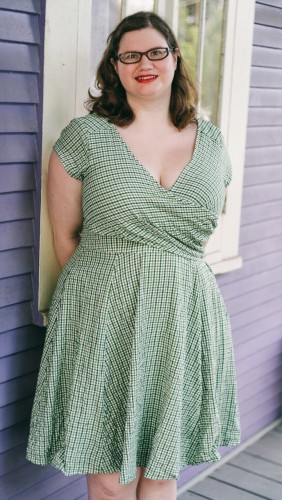 I've never been a wrap dress person, but I loved the idea of this faux wrap dress. I was also desperate for some seersucker and liked the color of this version better than the more traditional blue and white pattern. This was also made to my custom measurements and while I like it a lot, it's not the perfect shape for me. I end up wearing it with a tank top a lot due to the cut of the neckline and the wrap portion would work better on someone with a less extreme bust to waist difference. While it looks extremely cute when you first put it on, once you move around in it, this happens: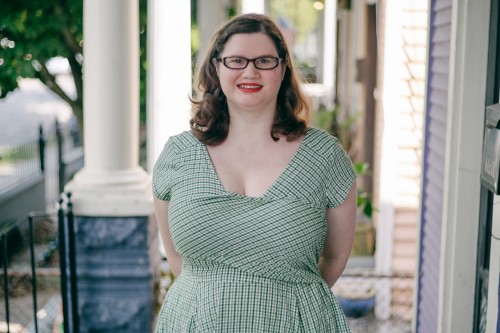 The wrap portion pulls up, which leads to having to tug it down every few minutes. I've actually worn this dress on casual days a fair amount despite this issue, but it certainly isn't perfect. The seams are a little unfinished on this dress as well, although the fabric quality is great.  While I like this dress a lot, I'm not crazy about it the way I am about the first one.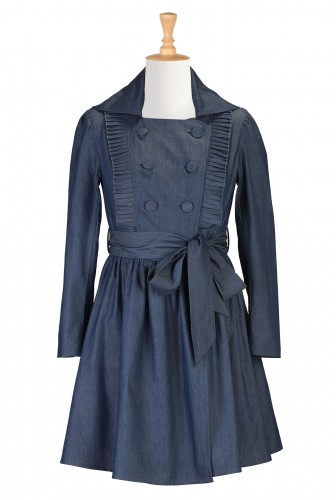 While I'm waiting to review the coat until later, in the interest of completeness I'll make some comments about it here. I was as thrilled with it as I was with the red dress and the custom sizing was perfect. I have a really hard time with coats due to my shape and I've never found a double breasted coat that will button with no pulling on me. This one is perfect, stylish and incredibly well made.
I will definitely go back to eShakti for more dresses, but I'll be sticking with silhouettes I know work on me. If you're someone who knows what dress styles you love and what works on you, eShakti is an amazing shopping experience. I'm incredibly impressed with their offerings and their custom dresses. I'll be back, but I'll be sticking to the tried and true next time. And probably picking up at least one more color of the Birds on Perches dress.