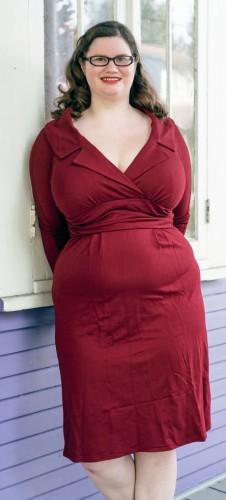 I posted about the Jayne dress last year, which is my all time favorite knit dress. When the latest Trashy Diva sale came around, I couldn't resist picking up two colors of the Mansfield dress. The Mansfield Dress is the same dress body as the Jayne with sleeves and a collar added, so I assumed it would be hard to go wrong. While we don't get a big winter here, it does get cold enough to wear knit dresses on a regular basis. After the awfulness that was the polar vortex last winter, I thought I'd stock up on warmer dresses to be on the safe side.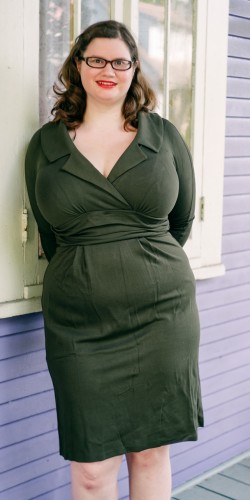 I'm wearing both of these without shapewear so you can see how they fall – I really love them. Both of these dresses have the same appeal as the Jayne dress: they're sexy but still work friendly. You can wear them with black stockings and heels underneath or dress them way up for an event.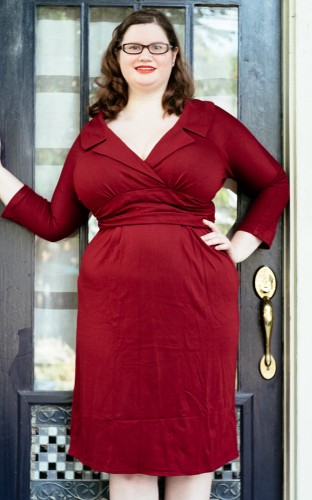 The knit is thick, luxurious and extra soft. The only thing to beware of here is the firm acetate waistband. While the Jenny dresses are made out of the same material and have least an extra size worth of stretch in them, the waistband in these means that you should go for your regular size or even size up if you have a larger ribcage. I'm perfectly comfortable in my regular 14 here, but don't be alarmed if these feel kind of tight the first time you try to zip them up.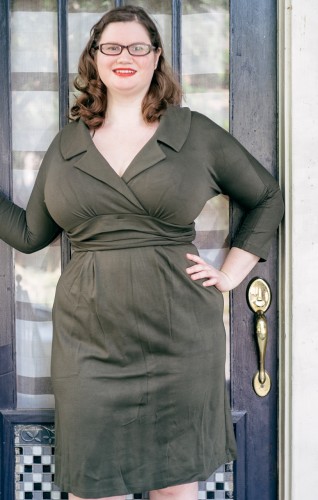 There are still a bunch of these left in the sale, so I'd definitely take advantage and grab one if it's your size. They're a fabulous basic for the cooler weather that we have coming up.