This weekend I was doing my weekly run-through of TJ Maxx, with places that tend to be hit or miss like that, I find that I need to do weekly visits. Sometimes their underwear and lingerie section can have some surprisingly good finds. Like that time I found the perfect DKNY bra in my 28D size for $16. Anyway, today I found a bunch of Betsey Johnson sleepwear that had me wondering what kinds of new stuff she had available in her current collection.
I was pleasantly surprised with what I found on her website, normally I know Betsey to be one of the few designers to successfully sell bright mixtures of animal prints, and she also sort of reminds me of Lisa Frank. Of course, I mean this in the best way possible. So when I started browsing her sleepwear and intimates collection, I was super happy to see that it was still playful in typical Betsey fashion, but had a sexy twist as well.  Here's a couple favorites of mine: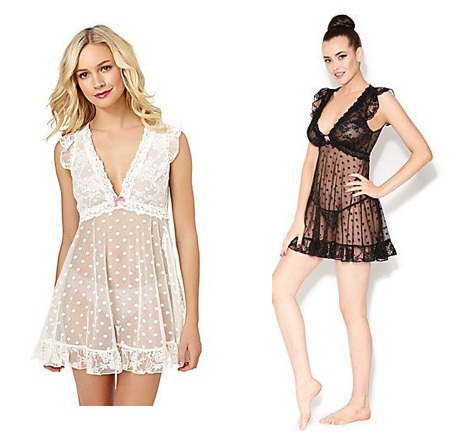 1. The Dot Mesh Slip has a beautiful lace detail on the bust with fluttery sleeves, and a simple mesh dot print on the rest. And it's under $50! I couldn't decide if I liked the black or the white better, maybe I'll just get both.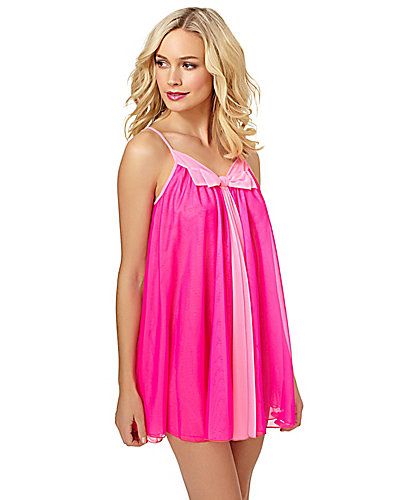 2. The Two Tone Tricot Slip is definitely brighter than what I would normally go for in terms of babydolls, but I love pink and I love bows, so there was really no way around this one. It was a little more expensive at $65, but still attainable for someone who's on a budget.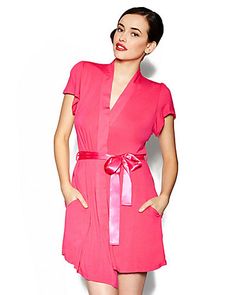 3: Okay I know I said I wasn't really into hot pink, but it turns out I am. The Sweetheart Rayon Knit Wrap is made from comfy and machine washable fabric, but the satin ribbon adds a touch of elegance. It's perfect for those times when you're not really trying to impress anyone with your fanciest lingerie, but still don't want to feel frumpy.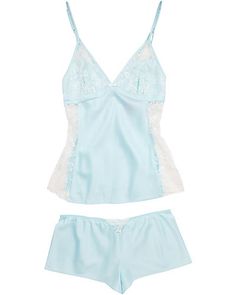 4. Cami and short sets are one of my favorites to give as gifts, they're a quick simple pick that usually run on a S,M,L scale which makes it easy to pick out the right size. This Sultry Satin Flyaway Cami Tap Set came in white, a black/pink combo, and pale blue (my favorite). The set is currently on sale for $47, originally $65.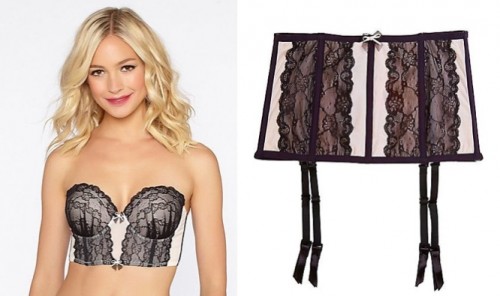 5. Of course there's nothing I love more than a bustier. Oh and a matching waist cincher, you say? Don't mind if I do. The Lace Waist Cincher ($42) is sold separately from the Lace Bustier ($62), and also comes in a solid white lace set.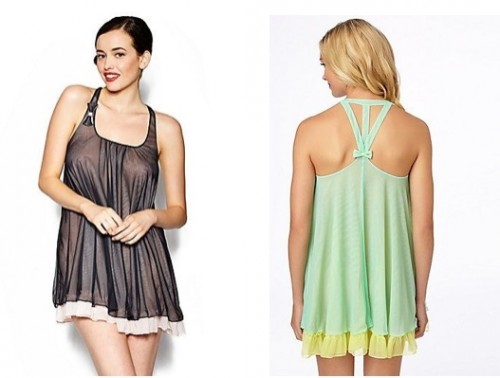 6. And finally, the Sassy Double Layer Tricot Slip. It's free-flowing, and has fun ruffles at the trip as well as bow details and a fancy schmancy back. The black and pale pink is suitable year round, but the lime green color would be fun for spring and summer.
So what do you think, was anyone else surprised by the designs? I'll pass on the blinged-out cheetah print vests but I'll gladly take any of the above.