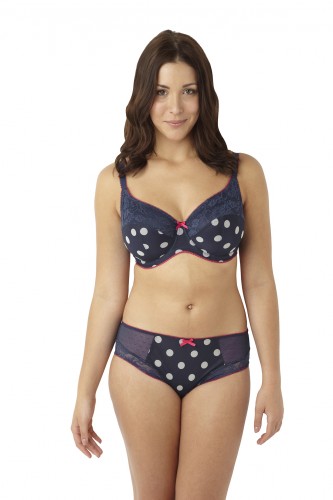 This is the second Sculptresse review this week, so don't forget to check out my review of the Paradise babydoll if you haven't seen it yet. 
This Flirtini set was one of the most popular pieces when the current Sculptresse collection made the blogger rounds last season, so I was really excited to try this set out. Polka dots aren't normally my thing, but I ended up liking this set much more than I expected to – in fact, it may have made me a convert to polka dots.
This set is based on the same shape as the Paradise babydoll which debuted as the Jasmine/Envy bra in the regular Panache line. It's a smart bra build that lends itself naturally to fuller figures as well as smaller ones, and the flexible lace panel on top makes it work for all kinds of shapes. Again, this is a 36H and the fit is great on me.
This set is one of those great designs that straddles the line between everyday wear and some seriously retro pinup inspiration. While I'm still not a fan of tiny polka dot patterns, I love the larger bolder version of the polka dots on this set. I also love navy blue, and the sheer panels and various laces break up the polka dot pattern so it isn't as overwhelming. It's cute, it's interesting and it's extremely wearable. This is one of those sets I can see working for lots of different body types as well as a wide age range of women. It's a huge fashion step forward for the brand and I can't wait to pick it up in cherry red in the spring.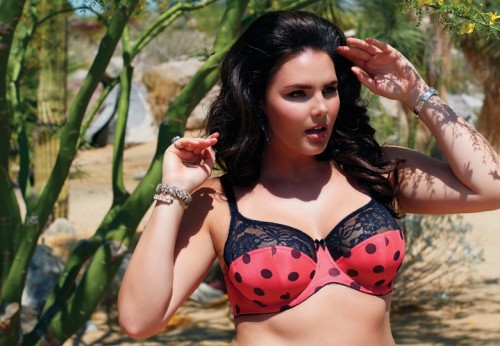 Most importantly, this set is insanely comfortable. Part of that is obviously due to Panache's decision to reuse the Jasmine bra build, but part of it is that the materials are soft and comfortable rather than scratchy and stiff. Comfortable fabric hasn't always been Panache's strong suit in the past (at least in my experience) so it's great to see them using lovely fabrics to create a whole new level of comfort.
This new Sculptresse line is more than a big step forward for the brand – in my mind, it puts them on par with brands like Elomi. Elomi has begun to raise their prices lately, so a new brand entering the market at a slightly lower price point may cut into some of their customer base. I'd love to get my hands on a Chi Chi to try it out as well, but they seem to be hard to come by! I"m hoping that Sculptresse picks up more stockists soon, as I think they're an incredibly strong brand currently.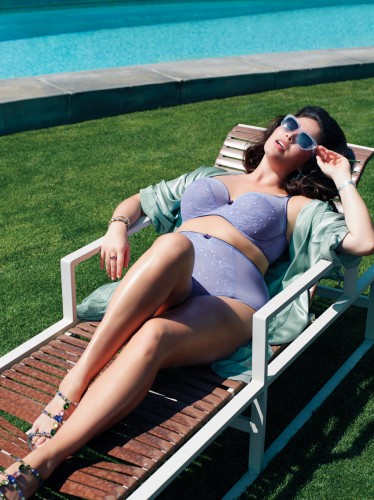 If you haven't seen my Spring 2015 preview for Sculptresse, check it out here. The good part is that it's basically new colorways of their current offerings, so if you like these shapes and fits you'll probably want to pick up some new versions next season. The downside is if you don't get along with the Jasmine framework, this line won't work for you as well. I'm really eager to see what Sculptresse has in store for next year. I hope they can keep pushing themselves in terms of fashion, fit and innovation – they've clearly proven they have the ability to create lingerie that can take on the plus size giants if they continue designing at this level.
What do you think of the new Sculptresse season? Have you tried it yet?