I've been talking about the new Sculptresse season for months now, so I'm thrilled to actually be reviewing some pieces from it! I'll have two Sculptresse reviews up this week, so check back mid-week if you're interested in their bra sets as well.
As soon as the new collection information came out, I fell in love with this Paradise babydoll. It was the antithesis of the previous collections: it showcased bold colors and beautiful textural details that showed a whole new side of the brand. I was a little worried that it couldn't be as wonderful in person as it was in photos, but I'm happy to say that it really lives up to my expectations.
Sculptresse starts at a 36 band, so this is a 36H instead of my usual 34HH. The fit is spot on, and I've heard from other boutique owners that they feel these bands run a bit tight. When in doubt or in between band sizes, size up. The cups run true to size, so go with what works for you generally in Panache. If you've tried some version of the Panache Jasmine or Envy, this is the same frame, so go with the cup size you know works and sister size from there.
This babydoll is full of rich details that really make it feel extra special. The butterflies are embroidered over sheer mesh, with the whole thing supported by the extra comfortable Jasmine frame. The mesh in the skirt has tiny little dots on it, which makes it feel much more luxurious than the plain mesh that is usually used in babydolls at this price point. The matching panties are comfortable and hit at a really flattering spot, although they won't match any of my other bras (perhaps this gives me an excuse to buy the matching bra set?).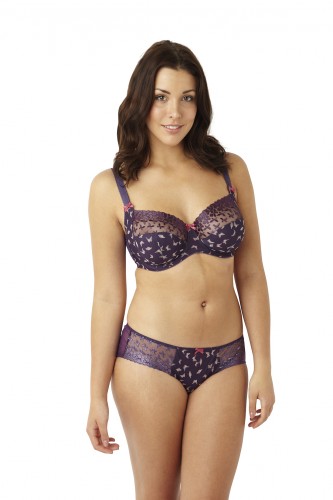 I'm thrilled by Sculptresse's version of the babydoll and simultaneously saddened that they won't be making one next season. There are lots of plainer babydolls out there in the full bust market, but this graphic butterfly version really stands out. I hope they'll make one next fall so I can pick up another. I like this set enough that I'm seriously contemplating picking up the bra version as well, since the fit and details are so lovely. If you like the Jasmine frame and are in the market for a special occasion set, it's hard to find a better choice out there than this set currently.