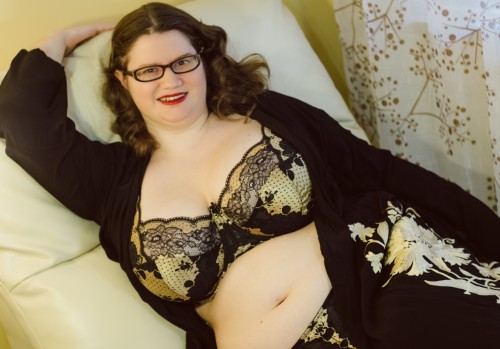 Panache hasn't been on my radar for awhile (at least beyond the Sculptresse line) as I'd had some really bad experiences with their Tango line in the past. Between this and the Jasmine/Envy bra, it's clear the line has changed a lot – in my opinion, for the better.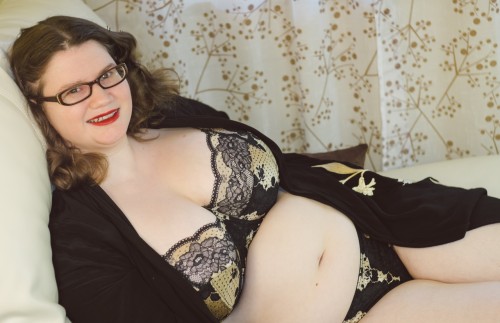 But before we get to the technical stuff, let's just take a look at this set: it's gorgeous. It's all the things great lingerie should be: sophisticated, special and very unique. The metallic gold works so well with the black, especially during holiday season. It's a big step up in terms of fashion from the regular Superbra line and Panache deserves a big congratulations for giving this bra a second colorway.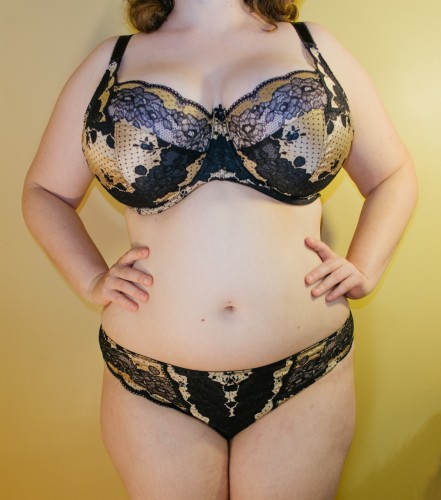 Panache tends to be one of the more consistent brands in terms of sizing, but I had to go up a cup size to get this to fit really well. This cut runs shallow and the aggressive side sling means that you may need a little extra room. That said, if this bra build works for you (it's the same as the Andorra with stiffer materials) you'll want more of them. It's incredibly comfortable and supportive, with the great stretch lace section that is used so effectively on the Jasmine bra. I actually liked this bra build so much I picked up last season's color from Zulily a few days ago.
While this bills itself as a "full cup" bra, I wouldn't have known that if I hadn't read the description. It's cut low for a full cup and even low for some balconettes
That said, if you're someone who needs really narrow wires or doesn't like feeling forced into a certain shape, this may not be your dream bra. The material used for the cup is very stiff as well, so while the interior soft you really do feel more held down than you do in other brands. The side sling is wonderful for support, but might be uncomfortable depending on your shape/tissue density. I know Sweet Nothings tried it and really didn't get along with it, so this is clearly one to try or to buy from a place that has easy returns. However, if you've had bad experiences with Panache in the past, this is definitely worth trying.
For me, this bra may be joining the rank of something I buy every time it comes out in a new color! It's also given me more motivation to try the lace based Andorra to see if I get along with that as well as I do with the Clara.
Have you tried any of Panache's newer bra constructions? How do you feel about them?