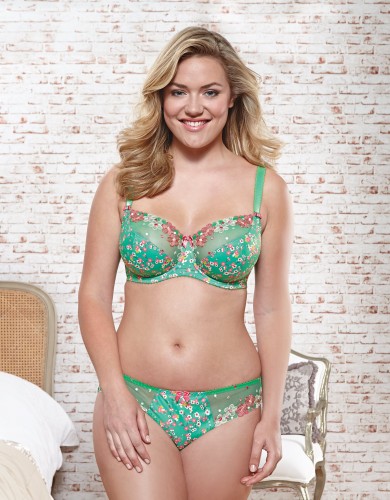 Valentine's Day is almost here, which is my excuse for why I haven't been blogging. It's not for lack of trying. My schedule has been full of lovely clients and tons of work along with prepping to go on vacation in a few weeks. The good news is that the gap has allowed lots of lovely lingerie to arrive, which means that I have lots of reviews coming up in the next few weeks!
For this review and the next, I'm going back to one of my favorite lingerie shops – Bravissimo. I honestly don't know why I haven't been ordering from them recently. They feel far away because they are UK based, but their shipping is comparatively fast and their customer service is awesome. I decided to re-acquaint myself with their offerings recently and ordered two bras that I've had my eye on forever. I bought this Cherry Blossom set at full price, but predictably, it's on sale now.
This set ticks all of my lingerie boxes. It's bright, super feminine and has an unusual floral pattern that doesn't remind me of my grandmother's sofa fabric. The colorful embroidery really pops when you put the set on and it's a unique shade of green that you don't see used much in lingerie. I picked this up in a 36H and the matching thong in an XL, as I know Bravissimo stuff can run a bit small. Be aware that this bra has no stretch in the cups, including in the upper portion with the embroidery. I think we've all gotten used to stretch lace being used in full bust lingerie to make fit easier, but Bravissimo hasn't switched over to that construction the way Panache has.
So how does it look on a person?
This bra gets points for being both comfortable and supportive, although it's definitely a higher cut bra cup than I've been wearing lately. It's lovely, but it won't go under your favorite v-neck shirt very well. That said, it's gorgeous under higher necklines and stays in place perfectly. The straps are fully adjustable, which is great for those of us who seem to need the shortest straps humanly possible.
This set is beautiful and works really well for every day wear – and it's a great price in the sale right now!
Have you tried Bravissimo recently? How do you feel about their bras?