If you missed it last week, the first part of my Bravissimo review (the Cherry Blossom Bra) can be found here. Today I'm going to be talking about one of Bravissimo's half cup bra models that has been around for several seasons – the Mademoiselle.
I've recently gotten back into half cup bras after not wearing them for ages. In fact, these days I've been buying more half cups than plunges. I've seen several different colorways of the Mademoiselle over the years, but this navy and rose combination is my favorite so far. While I ordered the Cherry Blossom in a 36H, I ordered this in a 36HH to give myself some more room in case it ran small. I'm glad I did, as the 36HH is perfect.
So what does the set look like on a person? Here you go: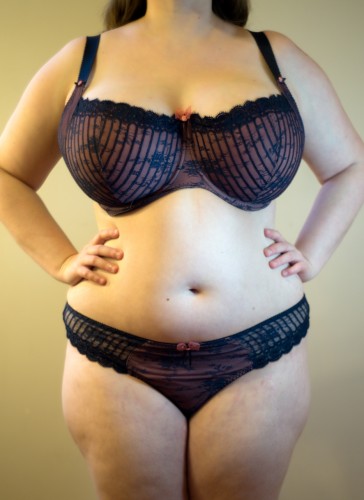 As you can see, this set is absolutely gorgeous and extremely flattering. I get much less projection with half cups than with plunges, so this feels almost like a minimizer bra to me. The only flaw I can find is that the straps are only partially adjustable, which means that the straps are still a bit loose on me. I'd love to see this have shorter straps or more room for adjustment in future incarnations for those of us with comparatively tiny shoulders.
While I love this as an everyday set, it would make a lovely special occasion set with the matching garter belt as well. It's extremely well made and will last forever, at least if it's like my other Bravissimo bras.
Have you bought anything from Bravissimo recently? What was it and what did you think of it?