I've stumbled across the Maddy James website before, but it was right after the brand launched and they didn't have a lot of pieces to choose from yet. While I loved the brand's idea of bringing vintage lounge and sleepwear to life in easy care fabrics, none of the pieces really sang to me. The brand has clearly done a major expansion and solidified their core look, because I'm in love with each and every piece that I've featured today.
Maddy James aims recreate the golden era of elegant sleepwear (the 1930's, the 1940's and the 1950's) in modern fabrics that are easy to care for. They also currently serve a wide range of sizes, from small to 3x. While most pieces fall either in the "bodacious" range (for plus sizes) or the standard size range, all are worth checking out. Maddy James get extra points for using an actual plus size model for the larger sizes, as well as representing a wide variety of ages in their photos. It's great to see more small brands embracing non-traditional models and becoming more equalitarian in their marketing efforts. There's a lot to love in this collection, so today I've pulled out some of my favorite pieces to highlight. While I haven't tried these, they're definitely going on my list to see if their wash and wear ability justifies the higher price point.
Love 1930's dressing gowns but can't find one that isn't stained, super delicate or simply your size? This Angeline dressing gown is perfect, right down to the tassel belt. It also comes in white and would make a great bridal robe.
I can't resist a robe with a strong collar, so this Cynthia Breakfast Robe definitely has my heart. The color is fun and will look great on a wide range of skin tones.
It's a nightgown and a bed jacket set, so clearly we all know how I'm going to feel about this. Can we officially say that the bed jacket has made it's fashionable return now?
This nightgown feels like something a classic Hollywood starlet would wear.
The details on this Delphine nightgown are beautiful, down to the perfectly pleated sleeves and the mother of pearl buttons.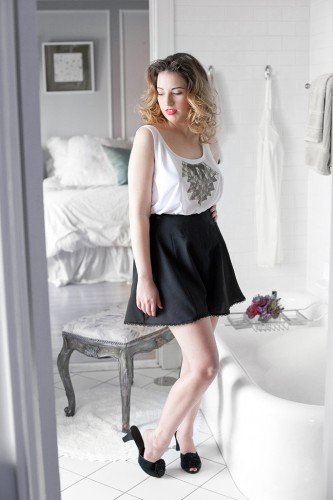 Truly traditional tap pants were not the short butt hugging things we see today, so it's great to see more vintage inspired brands bringing back the real thing. These are a great alternative to pajama shorts and look chic when paired with nearly anything.
This is another piece from the "bodacious" side of the line (as is the nightgown at the very top of this post). I adore the cut of the sleeves on both pieces, as well as the rich color of these pajamas.
This pinup tomato also serves as the logo for Maddy James, but I like it as a fun take on pinup design all on it's own. it's especially fab when paired with this set of red tap pants. This would be a great gift set for someone who was just getting into the vintage look.
Maddy James also sells a line of reproduction jewelry that copies various famous pieces worn by the golden age actresses. You know, just in case you want to dress up your loungewear! I'd be hard pressed to decide between Marilyn Monroe's tennis bracelet that drives so much of the plot in "Some Like It Hot" or Vivian Leigh's famous "Gone With the Wind" earrings.
What do you think of Maddy James? Do you think bed jackets are officially back?