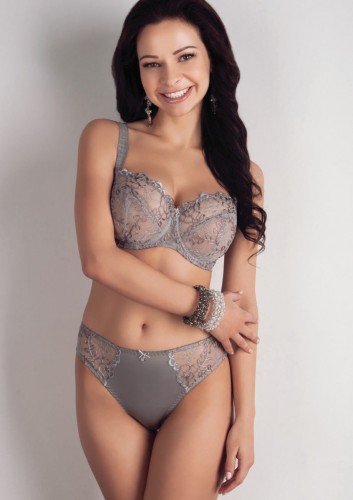 I was of two minds about doing this review – while this bra is great, this brand isn't readily available in the US yet. Luckily, Samanta is showing up more on Zulily these days and I'm hoping at some point they'll get US distribution worked out so we can all try these great bras.
I was contacted awhile back by a rep from Samanta Lingerie who was trying to spread the word about their bras. I was happy to try a sample, as I've always admired the look of their pieces but was completely unsure about sizing. Since Zulily lingerie is normally non-refundable, I was unwilling to take the plunge. Now that I know my size, I've been stalking their flash sales and hoping that Samanta will show up again.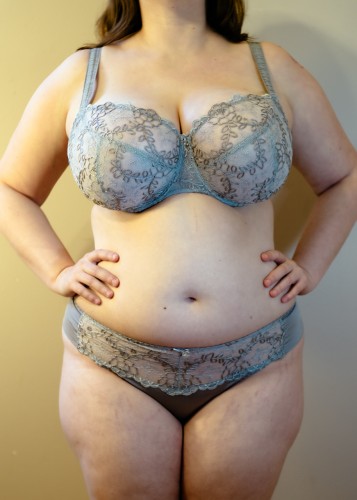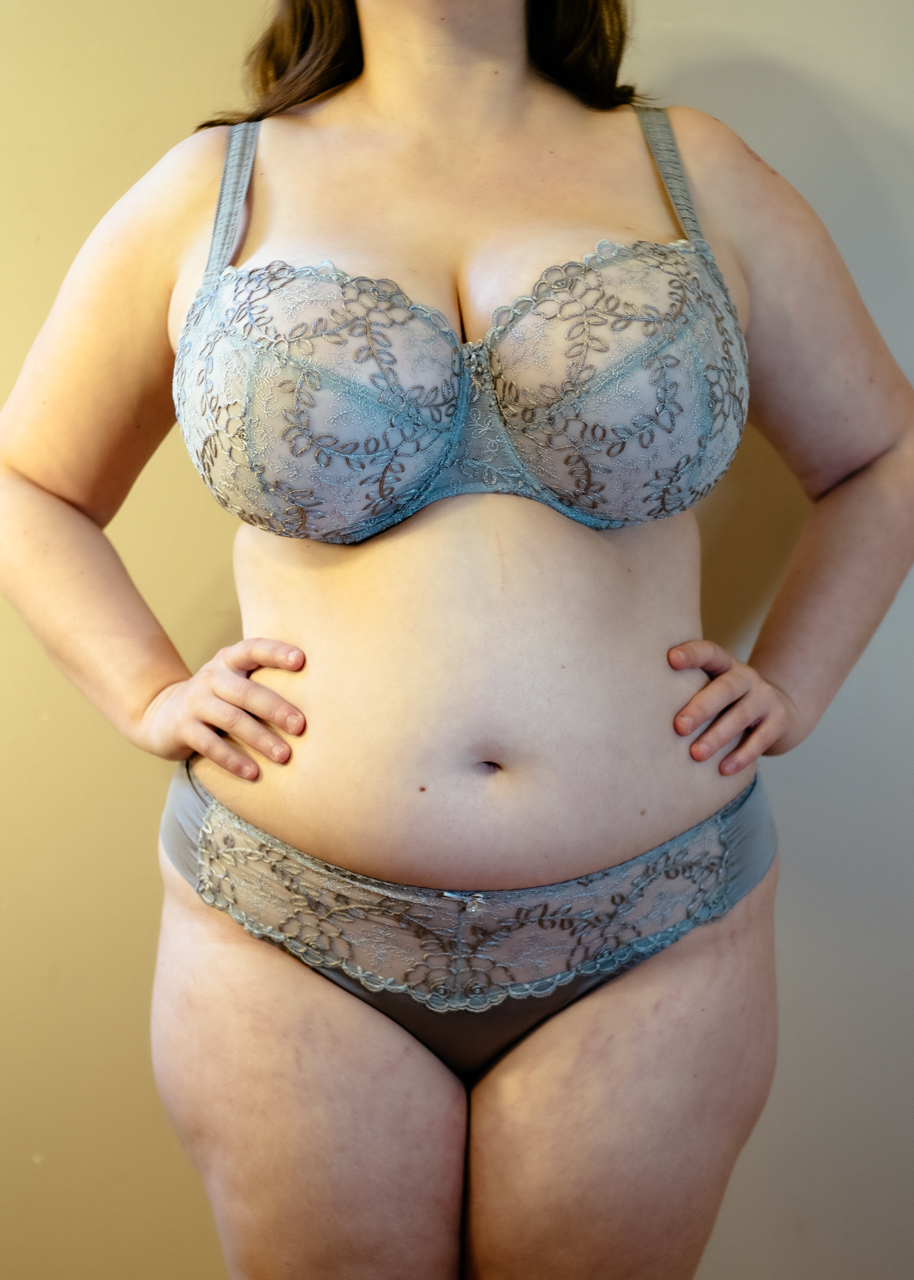 Samanta's bras all look very upscale and sophisticated, but also do some things with sheerness and patterns that most companies catering to larger cup sizes don't do. All of their various bra models fit different shapes and size ranges, so I let them choose the sample. They sent me this gorgeous grey bra in the A922 model, which is higher cut and better for larger cup sizes. The size was an 80H which was a good fit, although not perfect.
I'm at the very edge of the size range for Samanta in terms of cup and band size combination. The 80 band was a bit big (I started wearing it on the middle set of hooks) but I'm not sure they make anything I could sister size into either. These panties are the largest size they make and they're still pretty small on me – I could use a size up, which isn't available. While I'm probably not quite the ideal customer for this brand, I love this bra and I've worn it a lot since I've gotten it. You don't see a lot of companies doing totally sheer bras with beautiful embroidery like this in larger cup sizes, much less in colors like this. This set feels both pretty and sophisticated to me – it's certainly a change from my normal super-kitschy vintage aesthetic.
In terms of fit, this has all of the hallmarks of well made Polish lingerie, It boosts narrow wires, great construction and supportive materials that wear well. I feel like I would fit this brand better if I had a slightly wider ribcage, but that's more about my build then anything wrong with the bra.
So would I pay for a Samanta bra after trying this one? Yes, absolutely. I'm hoping that one will show up on Zulily in the same bra build so I can give it a whirl! I've asked Samanta repeatedly to let me know if they end up getting US distribution somewhere, so I'll let you know if that comes to pass. Right now you can't even buy through their website from the US, which is sad. There are so many more styles I want to try!