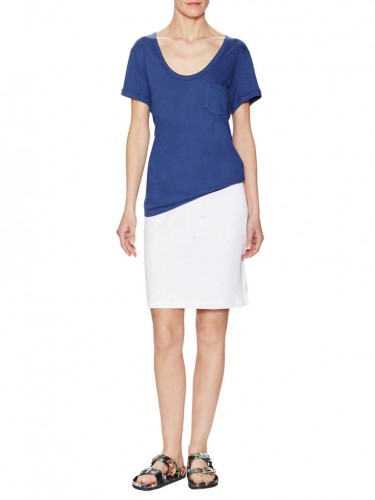 While I have a overflowing dress wardrobe these days, I still struggle to find casual clothes that I don't hate. Jeans never fit me right, most pants make me look like a mushroom and t-shirts just make me look shapeless. Now that summer has hit, I've been spending more time outside and wanting to stock up on easy (and washable) casual clothes. James Perse already makes my favorite t-shirts, so when I saw a 80% off flash sale on Gilt I decided to try out some of his other pieces. I even included a pair of sweatpants in my order, which is my usual casual clothing nemesis.
Bloggers don't talk about money a lot, but I feel like I should come clean a bit here: I can't afford James Perse at full price, so I always buy it during flash sales or outlet sales. Also, I'm not sure my brain can really  handle the idea of paying $135 for sweatpants.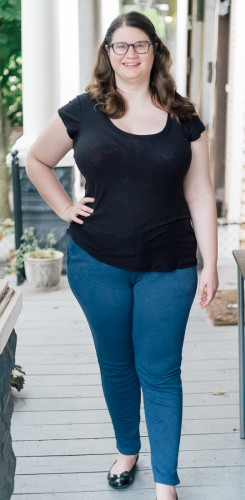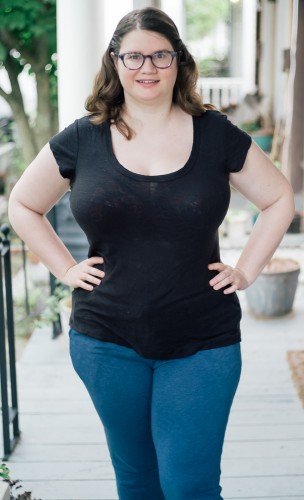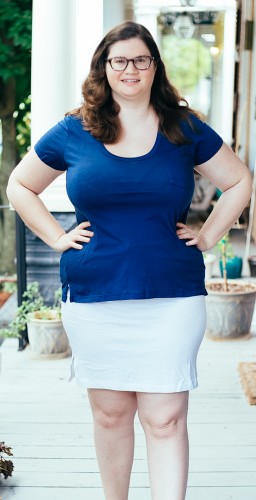 In my most recent order I picked up this white skirt made from sweatshirt material, the slim cut sweatpants and a gorgeous blue t-shirt to supplement my regular white/grey/black t-shirts from the brand that I already own. James Perse has their own sizing (1, 2, 3, 4) and all of these are size 4.
Lo and behold, I love every one of these pieces to death – including the dreaded sweatpants! The slim cut design does an amazing job of highlighting my curves along with the genius cut of the t-shirt. The material is really soft and comfortable as well.
I love the comfort and look of the skirt, although I do have to wear beige underwear underneath it. This isn't ideal for someone who tends to own mostly brightly colored underwear, but isn't a deal breaker either. Now we'll see how long it takes me to spill a cup of tea on it!
Have you tried James Perse? What do you think of this designer?