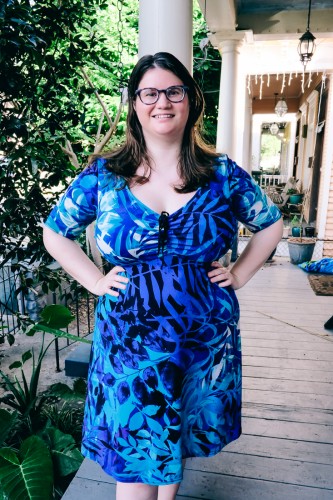 I've reviewed the DD+ line of dresses from Bolero Beachwear before, in the form of these gorgeous maxi dresses. Today I'm featuring a newer style, with all of the same curve friendly features.
Bolero Beachwear makes curve friendly summer dresses in a multitude of styles. They've developed quite a following among full bust bloggers: A Sophisticated Pair and Hourglassy are long time fans as well. Patricia, the founder and designer, was nice enough to send me this new shorter dress style to try now that the weather is getting hot here.
All Bolero Beachwear dresses have two features that make them great for hot weather wear: they come out of the washer and dryer looking like new and the drawstring neckline lets you adjust the amount of cleavage you want to show. This means that I wear these dresses for everything, from backyard barbecues to eating dinner out. I also don't worry if I spill coffee or get dog hair all over them, which means they get a ton of wear compared to some dresses in my wardrobe.
I'm not sure what this print is called, which is sad, because I love it. Patricia picked for me and she clearly knows my home color palette. This print is incredibly vibrant but doesn't feel over the top when you wear it, which makes it easy to throw on for just about any situation.
In terms of sizing, my best advice is to contact Patricia with your measurements and get her advice. Since this line is cut for curves, you'll probably need a smaller size than you think. You can also order them through A Sophisticated Pair and ask Erica all about sizing – she's an expert.
What do you think of this Bolero Beachwear style? Do you prefer short dresses or maxi dresses in the summer?