If I had to pick one style of bra to wear forever, it would be plunge bras. I love them. They go under anything, they're easy to wear and they come in all kinds of great prints and colors now. However, finding a supportive plunge bra can be challenging. I've fallen in love with the Beatrice plunge bra by Tutti Rouge over the past few seasons, to the point where I've recommended it to several other people as the ultimate plunge bra solution. All of this is to say, when Tutti Rouge contacted me and asked me if I wanted to try the new colorway of the Beatrice, I was over the moon.
I'm a not huge polka dot person normally, but the minty green color of this set really made me re-evaluate my issues with polka dots. The color softens them up somehow, while the cameo details make the set feel extra special. I'm also really loving the thicker satin fabric that Tutti Rouge is using these days. It's insanely comfortable and keeps it's shape really well over time.
So how does it look on a non-model body? Check it out: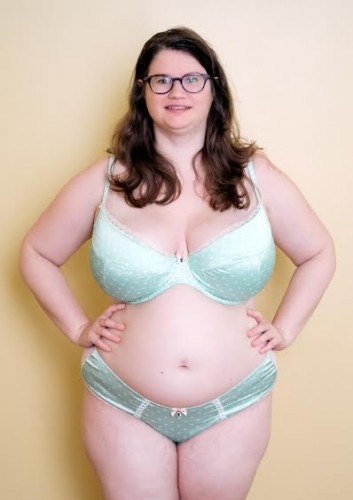 This set is actually a bit big these days (I've worn it so much that it's been hard to find time to review it), but the bra is a 36HH and the panties are a 2X. I could probably go down a cup size easily and definitely a size in the panties, but I love it so much that I've still been wearing it at least once a week anyway.
The color is lovely and light – perfect for this insanely hot weather that we've been having. The support is also awesome. I had to chase the dog down the other day and felt surprisingly comfortable running in this for short distances. However, the best feature is that the cut of the bra works under any neckline, even the deepest v-necks. It's my go to bra when I have a dress with a tricky neckline.
The Beatrice Bra is available at the Tutti Rouge site here, in both the spotted mint and some basic continuity colorways. If you're on the fence, start with the cream version so it will go under anything you need.