I feel like a bad bra blogger for admitting that this is my first time trying a Fantasie bra, despite the company being a staple of the full bust market. Many of their offerings have felt matronly to me in the past, while others have been too plain for my tastes. I was shocked to see early pictures of the Alicia set last season, which featured two of my favorite lingerie elements: flirty florals and embroidery. I've been drooling over the great embroidered sets by Huit over the past few seasons, so this seemed like Fantasie trying to jump on that bandwagon. Per usual, I purchased it as a pre-order through The Sophisticated Pair.
So how does it look in a 36H and an XL panty?
As you can see, this set is extremely pretty and feminine. The colors are lovely and the floral pattern is elegant rather than ditzy, which I really love.
The fit of this bra is right on, which means I wear the same size in Fantasie as in Panache. The shape is also really great, both by itself and under clothing. I love that nothing digs in anywhere, which makes the bra extremely comfortable for all day wear.
If I had one complain, it would be that I wanted more embroidery and less printed fabric. While the top section is embroidered lace, the rest of the bra is printed and flat. While extra embroidery would put this bra at a higher price point, it would really help set it apart from the rest of the market that makes similar floral print bras. The colors and pattern placement is lovely, but I feel like it could be made into a truly special set with a few tweaks. It's so rare to find tactile elements like that in full bust bras that I think Fantasie really missed an opportunity here.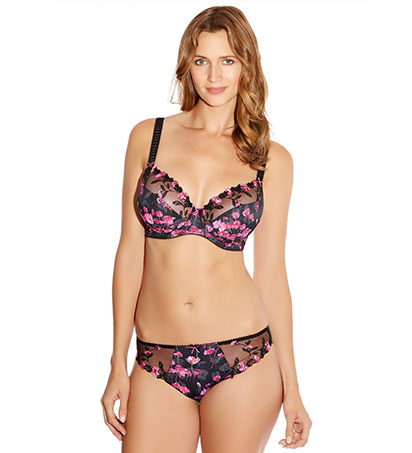 This set will be out in black colorway soon for autumn, so there will be another opportunity to try if it you missed it this season.
What's your favorite Fantasie bra? Have you tried the Alicia bra yet?