I've been following the progress of several lingerie businesses who have decided to opt out of the traditional sales cycle over the past year or so, especially as it becomes a more common way for indie lingerie companies to do business. As the internet takes over the way we shop, lingerie businesses are having to find new places to meet their customers as well as their needs. Impish Lee represents one avenue – an online only interface that allows customers to design their own lingerie with very few limits.
I was lucky enough get to chat with Kali, one of the two co-owners, on the phone a few weeks ago. I wanted to know more about the process of making lingerie in such a wide size range, how they used non-traditional advertising to their advantage and how they would expand outside the traditional boutique setting.
Impish Lee is owned by a set of sisters, Kali and Noelle. The whole endeavor began with Noelle making lingerie and selling it through Etsy four years ago. Over time, both sisters realized that their heart wasn't in the wholesale business model. For Impish Lee, custom pieces offered a lower upfront cost and more flexibility than the traditional wholesale path. Transitioning the business to specialize in custom lingerie also allowed the sisters to serve a wider group of sizes and body types, which was important to them.
All lingerie is now sold through their website, using a design configurator that allows each customer to design their own set. Options range from traditional underwired bras to full body loungewear pieces. The configurator allows you pick from suggested fabric and color combinations or to use your imagination to design a set that is completely unique to you. Kali believes that customers value lingerie that they have designed over generic pieces from other brands – and that their pieces will hold greater sentimental value over time as a result.
Advertising for the brand has been accomplished entirely through non-traditional methods like blogger partnerships rather than paid advertising. As a result, there isn't one size range that tends to be the most popular. Kali says that sales trends tend to follow press and blogger reviews, which means they end up selling a wide range of sizes rather than specializing in one smaller size range. Kali says that blogger reviews are important for Impish Lee because they work just like traditional references – in a sense, they help verify that the product looks great and delivers on their promises.
While most companies find sizing expansions to be prohibitively expensive, Impish Lee has found that custom actually works better at controlling costs. With custom, there is no wasted product. Once their designs are tested and finalized, all Kali and Noelle have to do is to source fabric and various types of lingerie hardware.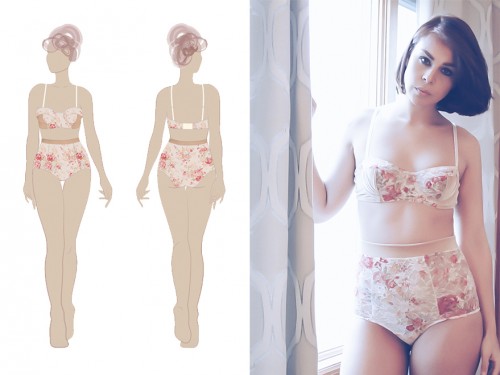 I asked Kali what future growth would look like, since Impish Lee uses a non-traditional model. Kali sees Impish Lee adapting a system like Shoes of Prey uses, where custom design kiosks would be located within lingerie boutiques or department stores. An employee would help educate the customer and answer fit questions, but each piece would still be designed by the customer.
At the end of the day, Kali and Noelle want to help everyone express themselves and feel beautiful, which involves accommodating as many difference sizes and styles as possible. Sizes currently run from size 0 to 24, along with US bra sizes 28A to 40J. Impish Lee will also create pieces outside their standard size range upon request – just include a note for them when you checkout. Impish Lee also has a free remake policy if you're unhappy with the fit of your pieces, which helps create peace of mind for customers who want to try out custom lingerie for the first time.
I haven't tried Impish Lee yet, but they're on my list for this summer! In the meantime, they've very kindly offered a discount code for TFFC readers: just use TheFullFigured10 for 10% off of your purchase there.
Have you tried Impish Lee? Would you buy lingerie through a configurator like this?