This set was provided for review by Buttress & Snatch. All thoughts and opinions are my own.
I already posted a huge number of pictures from the latest Buttress & Snatch size expansion earlier this week, but pictures only ever tell part of the story. This week, I'll be reviewing the Antionette set from the new line! I was lucky enough to get one of the early sample sets and if you follow me on Twitter, you'll know how immediately I fell in love with it. If you don't have time to stick around for the review and way too many pictures, here's the short version: This line is exquisite and worth the money. I'm already planning what I'll pick up next. 
If you are interested in the details, let's get started! I asked for this set in a 36H, but also provided measurements where they were needed. Since this was one of the earlier sets from the line, I was actually ready for it to show up with fit or quality control issues (if you aren't aware, this is pretty common with new lines). What I wasn't expecting was a beautiful set full of amazing details that fit like a glove – and that was exactly what came in the mail!
I didn't pick which set I wanted and I was sort of tickled to see that Rachel picked a set that was right up my alley. The rich raspberry sheen that this set has is just amazing, but is also extremely difficult to photograph. It both looks and feels extra luxe. The icing on the cake is the draped tulle fabric that provides coverage and makes this bra ideal if you're full on top. The whole thing is covered in bows, an extra layer of lace and is basically the closest I've ever come to wearing a fancy French dessert. You can pry it out of my cold and dead hands at this point.
In terms of sizing, this feels extremely close to my regular 36H that I wear in Panache and other UK based brands. One of my issues with indie lingerie brands is that sometimes the underwires just don't hold up to what mainstream brands are using. Wires are expensive and come in huge quantities, so that's more a supply issue than something most indies are choosing to do. That said, these wires are great! I don't know what magic Rachel has sourced and how, but they feel more substantial than the wires that most indie brands use. Despite being a boudoir bra, this has held up to running errands and other odds and ends quite well.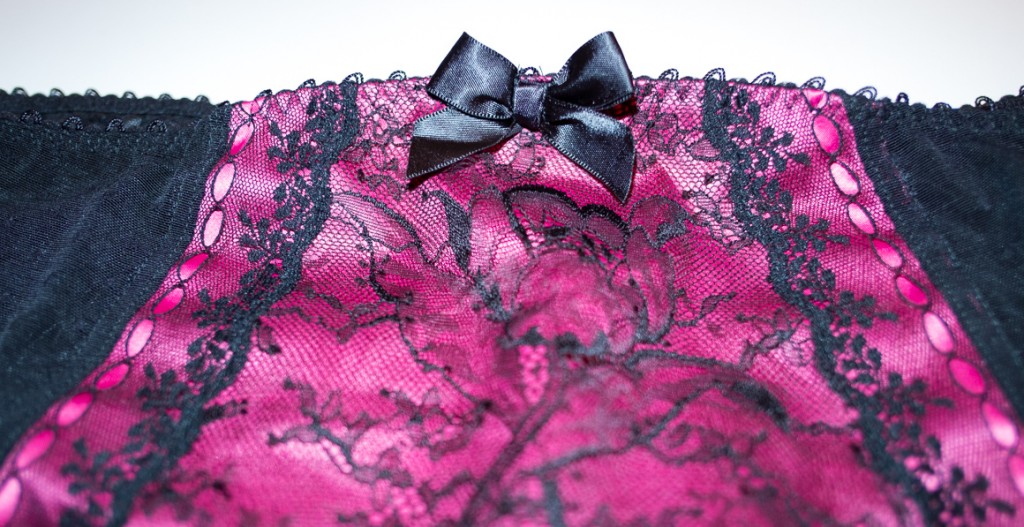 These panties are high-waisted in the front and barely there in the back, which is a great way to make them feel both supportive and super sexy. The knicker designs for the curve collection were based on 1960's panty girdles, which I feel like is bound to put some people off. If you're worried about feeling like a stuffed sausage, don't be. These are definitely more substantial than your average panty, but they don't feel like shapewear. They do have an extra layer of what I assume is powermesh, but it's really for smoothing rather than shaping. I've done lots of wear testing of this set by now and it's never been anything but supremely comfortable. These were a UK size 18 and fit perfectly.
I love this set and I'm already planning to pick a set (or two) up once the weather warms up and I get through my closet clearout. I'm really interested in seeing how the more "everyday" style sets stack up against the boudoir style sets in terms of comfort and support. I foresee being a regular customer of this line as long as it is around. I'm always lamenting how I would pay more for interesting bras in my size if they only existed, so I'm excited to have finally found a great source for them!
What do you think of the Antoinette Set? Are you planning on trying the new Buttress & Snatch line?