Products reviewed were provided by Tutti Rouge. All thoughts and opinions are my own.
This isn't the first review I've done of the Liliana, but I always appreciate being able to try various incarnations of a continuity piece from a brand. On a practical level, the same bra goes through design and sizing changes from season to season, so it's nice to be able to see if a piece has changed substantially over time. This review also served a nice personal function: it reminded me of how much I actually like this bra as an every day bra!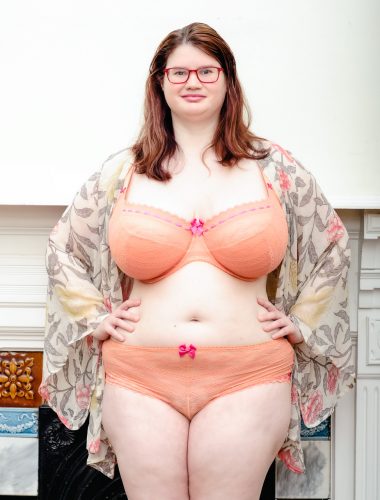 I've tried this bra is multiple sizes over the years, so this time I went out on a limb and asked for a cup size and panty size up from my usual. This is a 36HH and an XXL panty, which are a bit big while sometimes my regular size feels a bit snug. Apparently I need half sizes in Tutti Rouge or something. That said, both sizes objectively fit pretty well, so it's really more about your comfort level.
The Liliana is probably the most basic bra in the Tutti Rouge line, but features a lot of the design hallmarks that make me like the whole line so much. The gore is legitimately low, which makes it really easy to fit under pretty much anything. The cups are lacy, but provide plenty of support – enough to compete with other less pretty "basic" bras. Thirdly, the unconventional color choices elevate this bra above the average. While I suspect orange is going to be a love it or hate it color for most people, I really appreciate the orange and hot pink colorway that this set features. It's unexpected, weirdly sophisticated and completely unusual.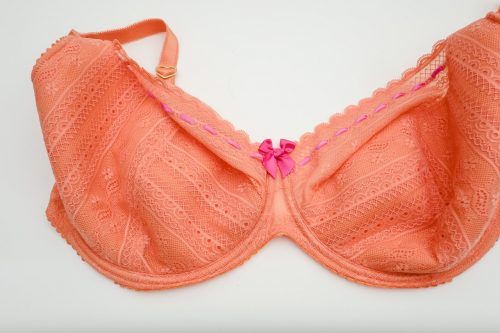 This bra features the usual adorable heart sliders and ribbon detailing that people associate with the Tutti Rouge line, which seems kind of run of the mill now but was really unusual when the line first debuted. Tutti Rouge should definitely be credited with the idea that you can do more with bra hardware various full bust lines were previously. In fact, I've seen several other lines marketing heart sliders since this line was released.
Most importantly though, I love that the Liliana just kind of settles into my lingerie rotation. I wore this as a test the first day I got it, intending to wear it while I worked and then put it away for another day. I ended up in it all day: through work, chasing my dog around in the New Orleans heat, going to dinner, unpacking boxes in my new apartment and taking a much needed nap. I kept it on because I honestly forgot I was wearing it: that's how comfortable it was.
The Liliana isn't considered revolutionary now, but it's still a immensely worthy addition to any full-busted or full-figured lingerie drawer. If you haven't tried it, you should. And if you have in the past, it's worth picking up another to remember just how functional and comfortable they can be.