Items for review were provided by Impish Lee. All thoughts and opinions are my own.
I've written about Impish Lee previously, so I was both pleased and nervous when the brand offered me a chance to try out their customizer and their bralettes! As someone who works with tons of designers professionally, I really think that lingerie design is it's own art form. At the other end of the spectrum is me, who frequently can't tell black from navy blue! I basically went into this with one goal: to try not to make a really ugly bralette by accident.
If you've read my other pieces, you know I have some fairly deep (and not necessarily positive) feelings about how bralettes are being marketed right now.  However, as someone who works at home, I have discovered the joy of pulling a bralette on instead of a serious underwire bra for a long day of writing.
The Design Process:
Luckily, the customizer is really easy to use. It has you pick the skin tone closest to yours, with options from very light to very dark (extra points to Impish Lee for working a diverse set of skin tones). This will be used for any flesh toned parts of your lingerie. Then you pick your item or items, and it loads the pattern into the customizer.
I'd just finished moving when I started this, so I had my front flower hedge at my new apartment on the brain. It's got gorgeous green leaves and a range of pink and red flowers on it, so I started with those colors as my design point. I love velvets, so I picked this green velvet as the bra base. I then chose to use pink floral lace panels as the front. I had no idea how sheer the lace panels would be, but I wanted to see how Impish Lee dealt with combining fabric types. If you do get stuck, Impish Lee has a list of pre-set combinations on the left side of the customizer to get you started.
Finally, you can pick how many bows you want and where, including no bows if you're one of those people who removes the bows from every bra they buy. Straps and elastics come in either white, cream or black.
The Measurements:
I am someone who is lucky enough to fit well into most UK bra brands, so I don't have to do the same detailed measurements that say, Polish bra fans do. I'm a pretty standard UK 36H, but I didn't want to guess on this. Impish Lee offers an amazing size range (from 28A to 40J) but will also do custom measurements if you don't fit well within their chart. To my surprise, I was right at a 36J.
The Bralette:
I was so happy when my bralette showed up and was pretty! It's also very well made. I own a bunch of bralettes that represent various price ranges and this is by far the best in terms of design and materials (as it should be, at $138). The longline band provides a surprising amount of support for a bralette and fits tightly like a bra band should. While I appreciate this feature once the bralette is on, it makes pulling it over your head a bit of an exercise if you have a large ribcage/full bust differential. Once on, the bralette feels like a firm hug – just like a bra should.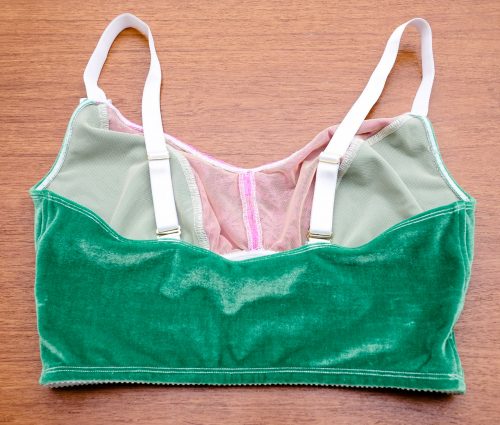 The lace panels are lined, which adds support and nice coverage. There are definitely ways to incorporate this outfit into a high waisted skirt/crop top combination if someone wanted to try it as well. The bra is sturdy and well made, which is great since I predict it is going to get lots of wear. I wish there was a way to make the bows and straps be a contrast color instead of a basic color (I'd love this with pink straps and bows), but that's asking a lot from a brand that already deals with an awe-inspiring number of variables and sizes in their production. It would also drive pricing upwards, which is probably a difficult balance for Impish Lee currently anyway.
Conclusions:
When I first interviewed Impish Lee, I wondered if their ambition and scope might get the better of them. It's hard to do a huge range of products well and it's hard to do a huge range of sizes well: together with such intense customization, I wondered if it might be impossible for a small company to manage. This bralette has convinced me that it isn't: in fact, the quality is right on par with the pricing. I definitely want to go back and try more of their pieces, including an underwired bra and a skirt set!
If you do want to try them, don't be scared of the customizer! I think Impish Lee has done a great job of making things easy, even if you're not a natural designer. I've read a lot of fashion and technology articles recently talking about what the future might look like: namely, that designers will have to learn to collaborate with customers rather than dictate to them. Impish Lee represents the first step in that direction, which I love.
Have you tried Impish Lee? Would you try custom lingerie like this?