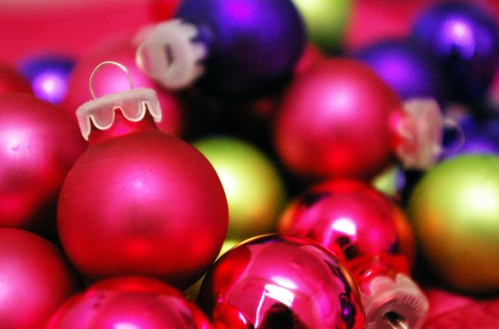 "Bright Christmas"by Viri G is licensed under CC BY-ND 2.0
Halloween is almost here but it's also time to start working on your holiday marketing plans! This time of year can feel like one big chaotic sprint if you run a lingerie business but it absolutely doesn't have to. By getting some basic marketing tasks done now your busy season can be more organized, less stressful, and more profitable than usual. I wrote about how to get inspired about your marketing over the summer, but the holiday season is more about getting the basics organized and building your version while you still have the brain power to do so. Read on for five easy things you can do to get more out of your holiday sales!
Plan a social media giveaway.
Social media giveaways are common during the holiday season for one simple reason: they work. Your company looks great, you get an easy way to generate excitement and help your images go viral, and you can help build your social media following. It's one of the lowest cost things you can do for your business and can generate some of the most powerful results.
I could write a whole post about how to make this work successfully (and maybe I will if people are interested) but here are some basic tips. 1) Make sure that you give away a prize that works for all body types and sizes so any potential winner will be satisfied. 2) Ship the goods promptly with pretty wrapping and a personal note. 3) Don't be afraid to make people do a little work to enter the giveaway!
Make sure your website features a streamlined shopping experience.
When we talk about growing our social media presences we often neglect the flip side: the shopping experience customers have on our websites. Social media can generate all the clicks in the world, but you won't ever make a sale if people can't do basic things like pick out and find their size or find the buy button. I often tell my clients that the best test is a human one! Find someone who is not internet savvy and ask them to go try to buy a specific item or one from a specific category. Even better, ask several someones. If they can't do it then make sure to ask them where they got stuck and why they gave up. Don't forget to do this test from your Instagram shopping and social links as well as on your website!
Make a plan for holiday images.
If you're a big business this means you've probably booked a photographer for your photoshoot already. If you haven't at this point, I truly can't help you! If you're a small business then you need budget friendly options. These can be as easy as staging pieces flat with a holiday style background or re-mixing your current inventory on a model with some cute warm socks for a winter look. Whatever you're planning to do make sure to use this less busy time to make your plans and create action items to complete them in time.
Come up with what makes your business different.
The holiday season is saturated with advertising and customers get worn down quickly! The biggest challenge of any holiday season is how to differentiate your business from others selling similar or identical inventory. What makes your business special? What parts of your story can customers connect to? The holiday season is about ROI, but it's also about telling your personal story in a way that motivates customers to chose you rather than someone else.
Figure out how you are going to rest.
If you work in the fashion industry you know how incredibly tiring the period between Halloween and Valentine's Day is. You have to find time to rest and relax or your work standard will drop. Your creativity will disappear. Put simply: nothing goes better when we work while burnt out. It just gets worse.
If you have the time, budget, and ability then you need to schedule rest. Resist the temptation to work weekends. Schedule an afternoon off from time to time to get out of the office and reset your brain. Schedule time to work on a hobby rather than work! Make sure to eat real meals and exercise. All of this can contribute to a productive and happy holiday season rather than hinder it.