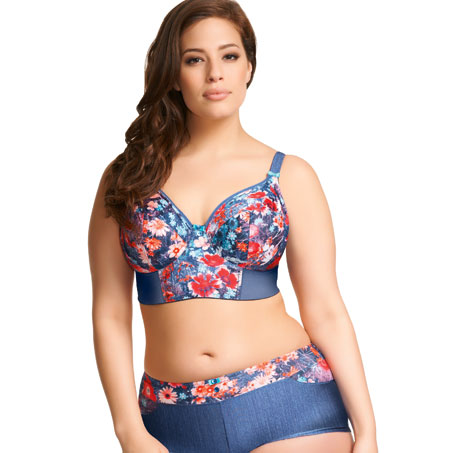 Elomi broke the mold this year by releasing a longline bra shape that catered to plus size women in higher cup sizes. Freya (Elomi's sister brand) has had great luck with theirs, so it's great to see them moving what works into other brands. I love longline bras, so I was really excited about this addition to my lingerie drawer. It's actually the only longline available in my size currently!
Elomi has a tendency to release new things in love it or hate it sorts of patterns – this is definitely the case with the Roxy. I love the pattern, but I'm also a fan of bright and crazy lingerie with clashing tones. If you want something more subdued or just don't love this color palette, you were out of luck.
So, how does the Roxy look on an actual person? Here it is: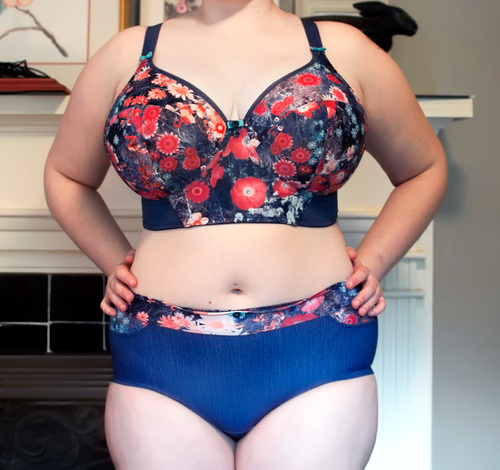 This is a 34H and a size L panty, which is definitely the right size combination for me. This bra didn't actually run higher than an H cup and I'm normally a HH in Elomi. While I'd prefer one cup up, this isn't horrendously small on me and actually works pretty well. These colors are pretty true to real life. I actually really love them for autumn right now. There's something about the whole thing that reminds me off colorful leaves and orange and red fall flowers.
The band of this bra does have some boning in it, which is something some of the Freya version have lacked. That said, it flips up on me very easily and I'd like to see Elomi do something to make it a little sturdier in the next version. I wonder if part of the issue comes from taking a feature from a brand like Freya and working it into a plus size line – women with more weight in their stomach or ribcage are more likely to have band flip problems.
That said, the bra is incredibly comfortable and I've worn it a lot. It's great when you want something with more definition under a shirt or dress and works as a great everyday fashion look as well. It creates a great shape under clothing as well.
I'm normally a huge fan of Elomi panties, but these are very different from their normal ones. The material is thin and slick, almost like the material that I associate with swimsuits. They also run a little tighter than the regular Elomi panties, so I might go up a size if I were to repurchase them. They're still nice and flattering, but I'm used to how luxe and soft the other Elomi panties are.
While the Roxy isn't my all time favorite Elomi (that honor currently belongs to the Betty) I do think it's a great addition to your lingerie drawer if you like the pattern and you're looking for something wearable yet distinctly different. I will definitely be checking out the new version in navy and pink next Spring/Summer as well!