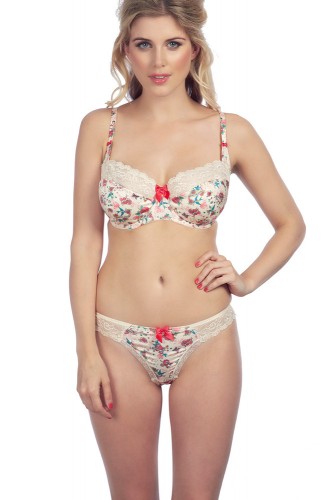 I don't know if it's because I look at so much lingerie for work or if more lingerie collections are actually looking the same these days, but I've been wholly unimpressed with lots of the collections from the big name brands. Thankfully, the Tutti Rouge "High Hopes" collection has injected a huge amount of fun into the Spring/Summer 2015 lingerie world. I fell in love with this lookbook when it came out last season, so I'm thrilled to be able to try it out in person now!
Tutti Rouge has gotten into custom prints, which makes their pieces even more fun. This tattoo print is unique to the brand and is based on 1940's and 1950's influences, Sailor Jerry and the musical South Pacific – how can you not fall in love with that? The print contains tattoo influenced designs as well as the "High Hopes" name. It's branded but not too heavily, which is a nice touch.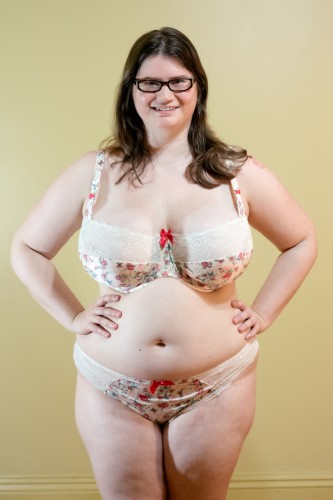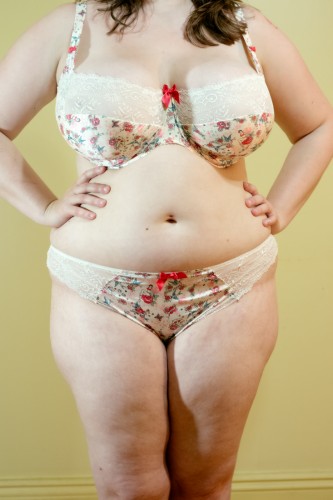 I was a little nervous as I"d heard that the Talluah Bra was one of the shallower styles, but it works fine on me. The gore even mostly tacks, which is rare since I have really narrow set breasts. My only minor complaint is the straps: I have smaller shoulders and I've got these straps the shortest they can go. As you can see, that still isn't quite enough!
This is my standard bra size, which means that it fits fairly true to size. I love that Tutti Rouge is incorporating more stretch lace into their designs, since it makes it easier for those of us who are full on top to fit into their bras.  I sized up in the panties to a 2xl as Tutti Rouge panties tend to run smaller – if you're a Curvy Kate fan, I'd go with your Curvy Kate panty size rather than your regular one.
I love how this set is retro and kitschy while still feeling adult and modern. It's also basic enough to be wearable under pretty much anything that isn't white or sheer. I even cheated and washed the panties in the washer and they came out fine.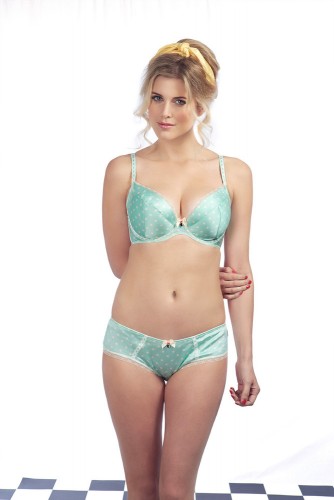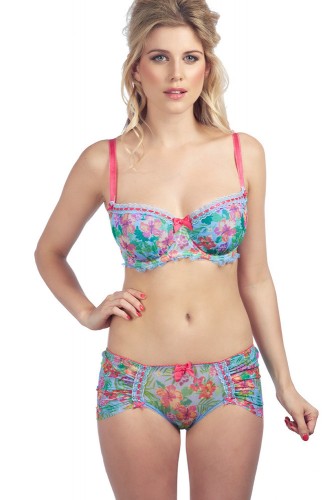 While the season is still new, this set will be a regular in my rotation. I'm also looking at picking up several more Tutti Rouge sets from this season, so I'll put those up when they become available (that Janey set will be mine). If tattoo print isn't your thing, this set will also be available in this stunning yellow version: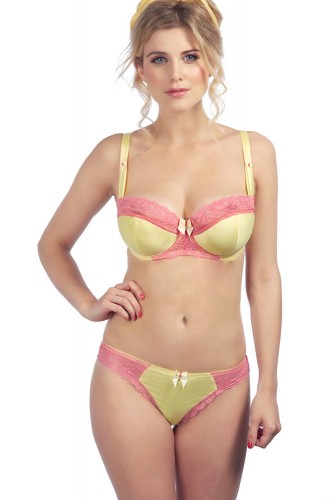 Some of these pieces won't be available until April, so I'll make sure to update this when they're available for purchase.
What do you think of this tattoo print? Have you tried Tutti Rouge lately?