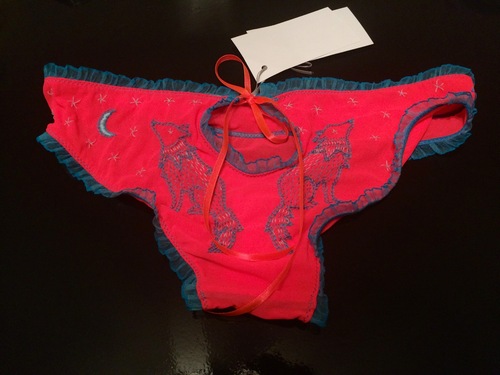 I first ran across FRKSlingerie on Ms. Underpinnings blog and immediately fell in love with this small Etsy seller's offerings. As a girl who grew up practically inhaling the original Grimm Brothers fairy tales, Arabian Nights and later authors like Angela Carter, these folklore and fairytale panties are a dream come true. You see lots of folklore inspired stuff, but it tends to trend towards the fluffy disney side of things. I love that these panties feature elements that show up again and again in the classic tales, like fierce wolves and mysterious yet elegant birds. They're beautiful, but they also evoke images of danger and mystery.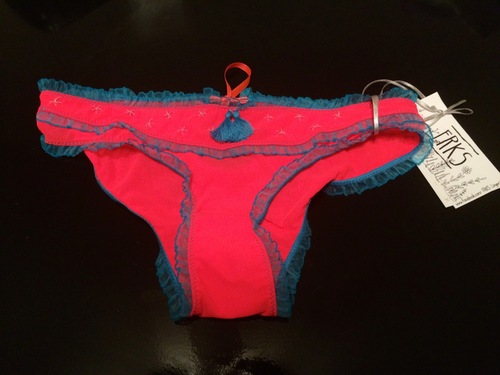 FRKSlingerie is a relative newcomer to the indie lingerie scene, although they've already been picked up by several bloggers who I respect (Scarlet's Letter has a review here that is worth reading as well). I couldn't resist trying two of their Etsy options to see if they lived up to all the hype. Sizes range from XS to XL with a very easy sizing chart and FRKSlingerie takes custom design and sizing requests as well. Their custom pieces on their Facebook page look wildly tempting to me. Panties run about $30 a pair, which is a good deal for good quality handmade panties.
I ordered the Howling Wolves panty and the Fairy Panty with birds, both in an XL. The original version of the fairy panty has a clear panel in the back to serve as a cutout, but I asked for the same fabric as the rest of the panty to be substituted. While I love ouvert panties, as a dress lover I'm conscious that they aren't always the best choice! It took a little over a month for the panties to be made and arrive, which seems on par with other things I've had shipped from Hungary/Poland area of the world. These panties are also handmade and embroidered to order which is a nice touch.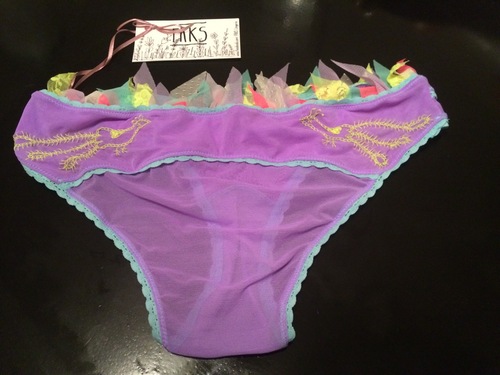 As you can see, these panties are bright! They're perhaps the brightest lingerie that I own, which is saying something. I bought these two since I thought that they'd go with lots of different colors of bras and be fun to mix and match. The panties themselves are made out of a high quality mesh, which has a slight stretch but keeps it's shape nicely. These fit me perfectly, but I'd definitely follow the sizing chart or ask for a custom size pair if you're over the listed measurements. They're extremely comfortable and don't cut into my skin, which is a problem I sometimes have with non high-waisted panties.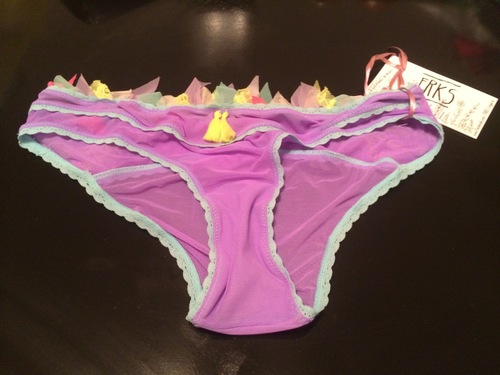 As you can see, the front of each panty is plainer but has adorable tassels on it. I love this idea and wish more companies would use it – tassels are way cuter than a button, bow or a little fake gem.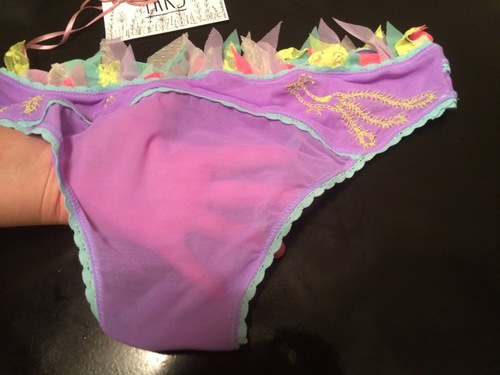 As you can see, these panties are also sheer and sexy due to the mesh base. They're a great combination of fun design and sex appeal. FRKSlingerie is a great choice for those of you who are looking for lingerie that is definitely outside the norm but is still fun and fashionable and I'm glad I took the plunge!
What do you think of FRKSlingerie? Do you want wolf panties too?