Well, it's been a really really long time since I blogged, and it's also been a really really long time since I've bought new bras or lingerie. However, that doesn't mean that I haven't been building up online shopping carts and creating wish lists this whole time. Even though we're well into spring at this point, I wanted to post some of my favorite looks for spring and summer.
Anastasia Silk Print Kimono, Harlow and Fox $531
The colors in Harlow and Fox's new Anastasia Silk Print Kimono are to die for. I mean seriously, the mint green with the pink worked into the floral design just make me want to make a lovely cup of tea and sit in the garden to enjoy my morning. Except for the fact that I don't even have a backyard, let alone a garden, but this robe would suffice in place of that.
Debut Collection, Impish Lee (TBD)
Impish Lee is a new brand I stumbled upon, and it's totally capitalizing off of the customizable aspect so many consumers are looking for, not only in fit, but to make their garments feel unique to exactly what they wanted. Based on the Lingerie Talk article I read, there are 27 trillion different variations. TRILLION. Whatever, as long as I can get my hands on some of their items from the debut collection (pictured below), I'll be a happy camper. They're accepting Pre-Orders now, and I'm definitely keeping my eye on this one, so stay tuned.
Meg Chemise, The Giving Bride $90
The Giving Bride is a brand I came across at a pop-up shop in New York, and I've been stalking her Instagram ever since. Also, I had tried on this Meg Chemise and fell in love. It's embellished with Swarovski crystals because why not, and it looks amazing paired with the Julia Robe (shown in picture). Yes, it's *technically* bridal, but this chemise may be the closest I ever come to getting married so just let me enjoy it. Also, Maggie (designer extraordinaire), makes sure that 10% of every purchase is donated to women's charities.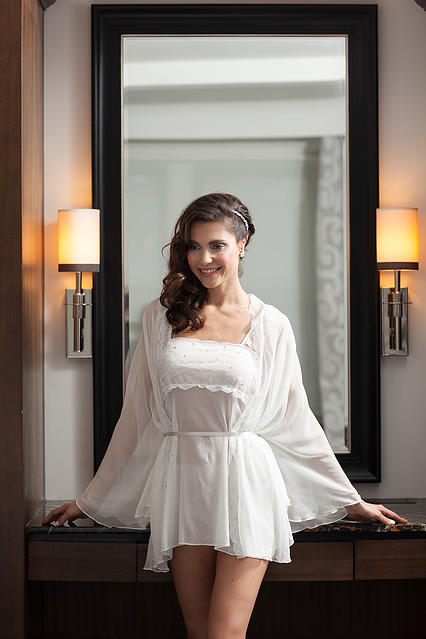 Unlined Camisole and Brief, Hanky Panky x Lilly Pulitzer $62
Anyone who knows me knows I have an obsession with Lilly Pulitzer. Not just the designs, but Lilly, her lifestyle, and the whole world within their branding (for the record, I am not a fan of the whole Target collaboration, but that's a rant for a different time). So when Hanky Panky teamed up with Lilly I was on a very colorful cloud nine. You can find these camisole and brief combos at their online store.
Short Dressing Robe, Dottie's Delights $134
Is this dressing robe from Dottie's Delights not the most adorable thing you've ever seen? It comes in seven different colors so I can lounge all week without fear of repeating an outfit. My cat might have too much fun with the ruffles on this, but could you blame him? IT'S SO CUTE. You can purchase one (or all seven) online.