I feel a little guilty writing this review, because I love this bodysuit so much and they've been discontinued by Panache. If you can find one of these in an online boutique, on ebay or in a closeout sale at a boutique then you should snap it up.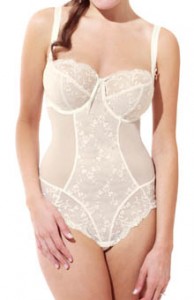 I picked this up at a closeout sale when I was at Bare Intimates because I had seen it online. It looks sort of nondescript on the hanger and even in some photos, but it's really magical on. They didn't have my real size in Panache (32HH) so I grabbed the closest one they had (34JJ). It works surprisingly well for being a little off sizewise and I've worn it lots and lots for work with pencil skirts and blouses. This bodysuit won't replace shapewear, but it gives you a nice smooth line under skirts or dresses and is easy to stay in all day. It has built in poppers at the bottom which is a feature that every bodysuit should have.
This bodysuit has a standard bra hook back with a cut out back, which adds extra sex appeal to what is already an extremely sexy piece. The whole thing is very sheer, including the sections with the embroidery. Unlike some Panache bras (dear Tango bra, why do you hurt me so?) this bodysuit doesn't cut into me awkwardly anywhere, which means that I don't have to pick looking great over retaining feeling in my armpits.
That said, I predict that if you're on the shorter side (I'm 5'4″) you may still have the wires poking into the armpits problem that many women have with Panache products. This wasn't nearly as bad as my Tango bras (in an even bigger size cup size), but if you're below my height you may have to do some wire bending to make it work comfortably for you.
I'm really disappointed that Panache isn't making anything like this anymore out of the H cup range. Basques are all well and good, but I'd love to see them come out with an updated version of this in a color besides black or white. In the meantime, I'll have to content myself with hunting down a black version and the Confetti bra and panty that matches on Ebay in my real size.