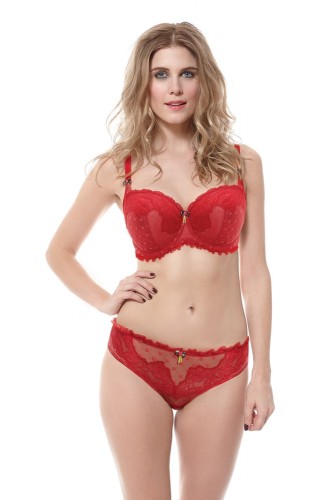 This review is part of an ongoing best of 2015/2016 series. To see part one, go here. For part two, go here. 
This set was provided by Tutti Rouge. All thoughts and opinions are my own.
This is the final Tutti Rouge review in this series – next week, we'll be moving onto other brands that released outstanding lingerie this year. I did want to include this Fifi Bra though, in part because I love it and in part because it's a great choice with Valentine's Day coming up.
This is the only solid color set I've included from Tutti Rouge in this best of series, although they have several that are definitely honorable mentions. I regularly wear both the Beatrice and the Nichole sets (and own them in multiple colors), but this Fifi set is far more than just another red bra.
When I was curating sets for this review series, I kept coming back to one common feature that made certain sets stand out to me: texture. As I get older, I find myself gravitating to sets that contain more than a pretty lace: I love sets that play with laces, embroidery, subtle pattern mixing and textural elements that really make a bra pop. The Fifi Bra fits that category perfectly, which makes it my standout red bra of the past year (and guys, I own a ton of red bras, so this is big).
Before I get to the bra, I wanted to talk a bit about matching bottoms. By the time I got this set, only the thong was left. I am not a thong person in general, but I actually really loved this one! It fit well, it is comfortable and it's washed incredibly well. That said, it is also tiny. I didn't photograph it, but that doesn't mean I didn't like it. I've worn it lots and it feels right as part of this set.
Onto the main event: the Fifi Bra. This is a 36H, which is also my Panache, Elomi, Sculptresse and Fantasie size. I was a 36H in all of these Tutti Rouge bras, which means that their sizing is both consistent within the brand and with respect to other brands.
This bra is actually fairly complex in terms of design. It features overlapping laces and mesh fabrics, which results in a collage of ruffles, polka dots and almost frosting-like patterns on tops. Basically, if you wanted a bra that reminds you of a super fancy dessert, this is it. The bra is decorated with little rosebuds and leopard print ribbons, which helps combat any sense of preciousness that a bra like this could exude. It feels baroque yet modern and is eminently wearable. It's not so sheer that it can't be worn as an everyday bra, but it feels fancy enough to really perk you up and change your mood once it's on. Basically, I love it and want it in every color. It'll be out in lipstick pink next season, which I'm seriously excited about.
Tutti Rouge started out as a brand that skewed younger in terms of design, but I think they've evolved into a brand that works for all kinds of age ranges and styles. This bra is both sophisticated and classic, without becoming too serious. This line works for me at 30, but I think I would have loved it at 20 too. I suspect it works for fashion forward customers who are older than I am, as well. While a 50 old woman might not pick up a kitschy print option, bras like this and the Nichole would be a great choice.
I'll be moving on to other brands next week, so don't forget to check back!