The Best Brands of 2011: It's been a fantastic year for lingerie and clothing for full-busted women. This year more mega brands expanded their size ranges while several independent labels hit the big time with G cup ranges. This is your guide to the best bras, panties, and curve friendly clothing of 2011.
Most Inclusive: Curvy Kate
Curvy Kate continues to be a leader in the market due to their massive range of sizes. They cover 28 and 30 backs, and make lots of bras that go up to a K cup. Their Star in a Bra competition remains one of the best pieces of marketing ever done, and many full-busted women swear by their lingerie. Despite their missteps with the launch of the new "Smoothie" bra, Curvy Kate remains the most inclusive brand on the market.
Best Design: Ewa Michalak
This Polish brand made an incredibly strong international showing this year, and is rapidly gaining fans worldwide. The company focuses on producing small runs of sturdy, supportive, and beautiful bras in sizes A-KK. Bras this year included everything from mint green delicacies to this unexpectedly bold leopard print set.
Most Innovative: Claudette
Claudette hit the big time press-wise this year, and deserved every article of coverage they got. They presented everything from comfortable every day options to their new neon Mesh Dessous collection which pushed boundaries while being supportive. Their only downside is their relatively small range of band sizes, but they're promising to expand both their cup size and band size offerings for next year. Personally, I can't wait to pick up a neon bra in every color.
Best Everyday: Parfait by Affinitas
In terms of price and quality, nothing beats Parfait by Affinitas. Their mix of every day bras and boundary pushing babydolls and camisoles makes them one of the best bets for the full-busted lingerie collector. They feature luxurious European style details while working within the latest trends. If you want something up to the minute that fits like a dream, this is your brand.
Best Made to Order: Sonata Lingerie and La Lilouche
Both Sonata and La Lilouche are proving that luxurious made to order lingerie isn't just for A through D cups. Their designs work beautifully on many body types, and they're always willing to take custom measurements.
The Best Bras of 2011: After lots of hard study and lots of test runs, I've come up with a list of the ten best lingerie sets that you shouldn't miss from the past year. Some of these designers will be familiar, and some won't. Either way, grab some of these before these sets disappear for 2012!
Best Plunge Bra: The PL Amarant by Ewa Michalak
I ordered this set on sale a few months ago, and now I wish that I'd bought at least two more. This plunge bra is masterfully constructed, and creates lift and cleavage that you have to see to believe. The bright pattern and creative details make it a treat to wear as well. There aren't many sizes left in this set, but I can't wait to try some of the other PL styles.
Best Moulded Bra: The Deco Moulded Plunge Bra by Freya Lingerie
The Deco has been the holy grail of moulded bras for awhile now, and there's definitely more competition on the market today. It still deserves a place on this list though. It comes in several styles (strapless, half cup, plunge) and a variety of colors. If you're looking for a great t-shirt bra, this is what you should pick up. Sometimes the classics really are the greatest.
Best Sheer Bra: The Mesh Dessous Bra by Claudette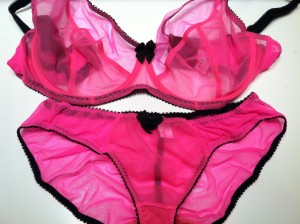 Lots of bloggers have been complaining about sheer bras lately. Namely, we're disappointed in their lack of sheerness in larger cup sizes. Through smart seams, extensive fit testing, and great design Claudette has produced a sexy fully sheer bra that goes up to a G cup. This bra is currently out in mauve, hot pink, leopard, and black so go grab one in every color.
Most Romantic: Falling in Love bra by Fraulein Annie
Fraulein Annie is another independent London brand that is making a splash around the world. They got picked up by Figleaves this year and increased distribution tremendously. This Falling in Love bra shows their romantic leanings, which become even more appealing when combined with the incredible construction in their larger cup sizes.
Best Everyday Bra: Bess Bra by Parfait by Affinitas
This bra was so popular that Parfait by Affinitas is bringing it back for a second season! This looks like a special occasion bra, but disappears under a t-shirt and stays supportive and comfortable for an entire day. It comes in pink and white, and both versions are beautiful.
Best Bustier: The Fiona Padded Wired Camisole by Parfait By Affinitas
There were lots of great basques and bustiers this year, but the Fiona Padded Camisole remains my favorite. I wear it under everything, and it looks great by itself. The boyshort panties that complete the set are absolutely adorable as well.
Best Bright Bra: The Princess Bra in Wine/Grape by Curvy Kate
Bright colors were a big trend this year, and some of the best versions were put out by Curvy Kate. I've been wanting this wine colored bra all season. I love the ribbons and the velvet dots on the fabric, and it's gotten rave reviews in terms of fit.
Best Special Occasion: Poppy English Rose Silk Chiffon Camisole and Pompom Knicker by La Lilouche
This is going to be my Valentine's Day lingerie set this year. La Lilouche is really playing with lingerie, fashion, and new cuts and colors. Even better, her curve friendly attitude and made to measure sizing makes this set a surefire way to treat yourself or impress your significant other.
Best Underwear As Outerwear: The Elektra Bodysuit by Sonata Lingerie
This is another amazing made to measure piece which flatters your curves and works with anything. You can wear it solo, or pair it with jeans, skirts, or high waisted pants. It also goes well with the Mesh Dessous bra in hot pink. I've worn this at least once a week since I've bought it, and I can't wait to pick up more colors.
Best Nude Bra: Porcelain Viva Nude Bra by Panache Lingerie
Claire from Butterfly Collection introduced me to this bra this year, and I wear it all the time. The nude shade works perfectly under everything, and it provides supportive full coverage comfort for hours. Having tried several other nude bras now, this one beats out the rest by a mile.
The Best Curve Friendly Clothing Brands of 2011: I'm not huge clothing shopper, but I could happily make a wardrobe out of these three clothing brands. They fit curves perfectly, and they're all stylish and reasonably affordable.
Best Jeans: PZI Jeans
PZI builds jeans and pants for curvy women, and they do it superbly. You look slimmer and trimmer, and the jeans don't gap or fall halfway down your butt. I'm in love with all of their styles, but these Jackson jeans are my absolute favorite.
Best Workwear: The Campbell and Kate Signature Shirt
Full-busted women have a love/hate relationship with the classic white shirt, and Darlene has finally fixed it! Her shirts come in various levels of curve, and won't gap or billow around your stomach like regular white collared shirts. If you're looking for one piece to wear everywhere, pick one up.
Best Overall Clothing Line:  Biu Biu Clothing
This Polish company is gaining a huge international audience for a good reason. Their clothes fit impeccably, their designs are bright and creative, and they're incredibly well priced. If I had to pick one designer to stock my wardrobe with, Biu Biu would be it.